Only one third of Samsung's smartphone sales are in the class of Apple's iPhone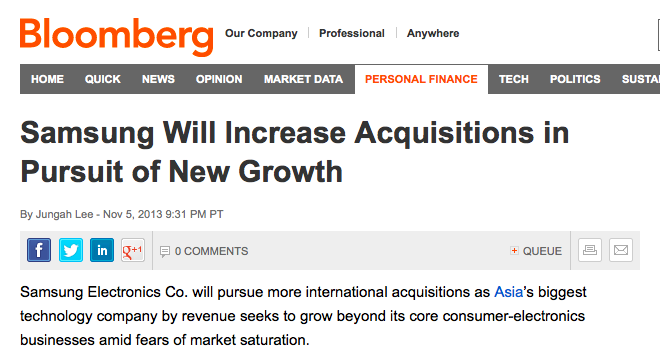 In a meeting with its concerned investors on Wednesday, the head of Samsung Mobile revealed numbers illustrating that the company sold fewer high end smartphones than Apple this year, and that only about a third of the company's total "smartphone" shipments are of a class really comparable to the iPhone.
Disregard sales, acquire companies
Samsung's investor meeting, intended to instill confidence in investors worried about flattening sales of profitable, high end smartphones, focused attention on the company's stated plans to accelerate the pace of its acquisitions.
A report by Jungah Lee for Bloomberg cited Samsung's chief financial officer Lee Sang Hoon as saying, "Going forward, we will expand our mergers-and-acquisitions strategy beyond a few target areas to pursue opportunities across a wide range of fields."
Samsung said it has only spent around $1 billion on 14 different acquisitions since 2010. That's a far cry from Google, which has averaged one acquisition per week over that period, and even much less than Apple, which recently announced having made 15 "strategic acquisitions" over the past year.
Is Samsung beating Apple in smartphones?
The Bloomberg report stated that "the company, which overtook Apple Inc. (AAPL) in smartphones, has used sales of cheaper handsets in emerging markets to stoke earnings in mobiles as growth in high-end devices slows amid market saturation."
That's a sugar coated version of what Samsung reported in its latest quarterly earnings report, where it clearly stated: "total shipments [of smartphones were] up QoQ led by increased sales of mass-market models," but "high-end model shipments stayed at similar level QoQ."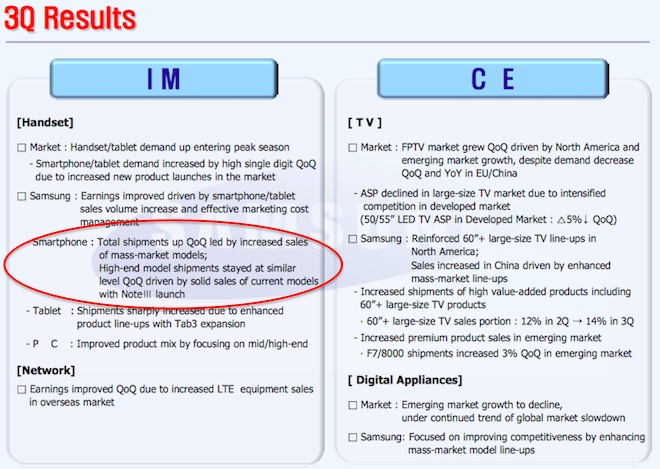 In stark contrast, Apple's iPhone sales were up 26 percent over the year ago quarter, setting a new volume record for the September quarter. All of Apple's smartphones are "high end," unlike the outdated, 2008-era Galaxy Y model Strategy Analytics Executive Director Neil Mawston cited as an example of the "mass-market models" he said were helping to "lift" Samsung's volumes.
Samsung rarely provides firm numbers for actual smartphone sales, nor does it regularly detail how many are "high end" iPhone competitors and how many are simply basic camera-phones running an old version of Android 2.x, and sold at razor thin profit margins.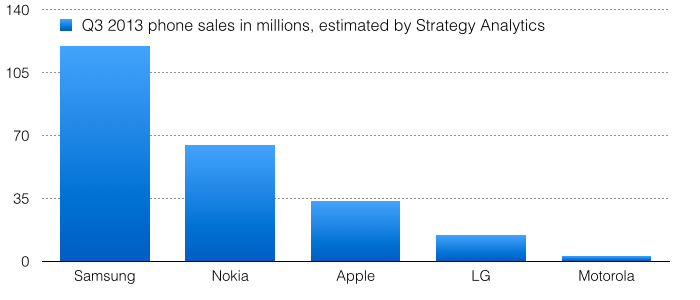 Strategy Analytics has become famous for lumping these sales together to award Samsung for being the global smartphone leader, despite the fact that Samsung Mobile earns much less profit (over $1 billion less, below) than Apple despite its much larger numbers of smartphone shipments (more than 3.5x, above).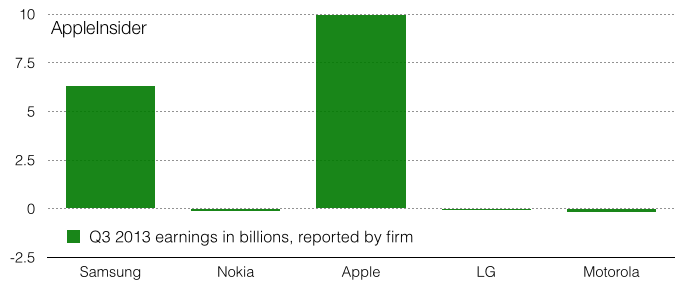 Samsung's ships two-thirds as many Galaxy S, Note as Apple's iPhone
However, the Bloomberg report noted, in passing, at its very end a comment made by Samsung's mobile chief Shin Jong Kyun, who outlined at the investor event (as portrayed on Samsung's slide below) that "the company will sell a combined 100 million units of its Galaxy S and Note series handsets this year."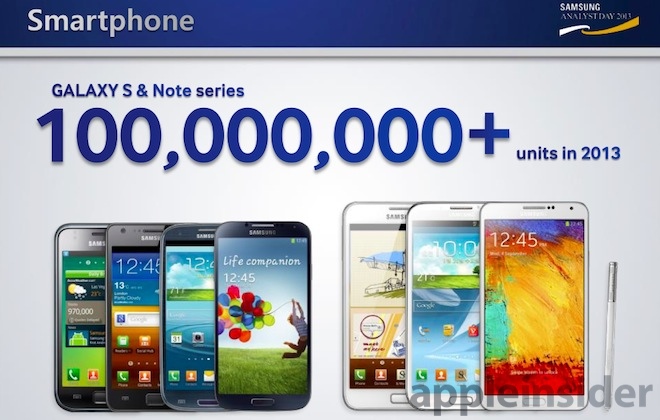 According to a (Korean language; machine translated) report by ETNews, Samsung targets total "smartphone" sales this year at 300-310 million, and plans to sell around 360 million in 2014, of which about 126 million will be "premium models."
That report described Samsung's flagship Galaxy S4 as having "sluggish sales this year," and referenced the firm's "the low-end model-driven business strategy." The company originally projected that the Galaxy S4 would sell 100 million units a year on its own, before sales collapsed this spring shortly after its launch.
Samsung's current sales and future plans consistently describe that only around one third of Samsung's "smartphones" are actually comparable to Apple's current iPhones, albeit being a generation behind.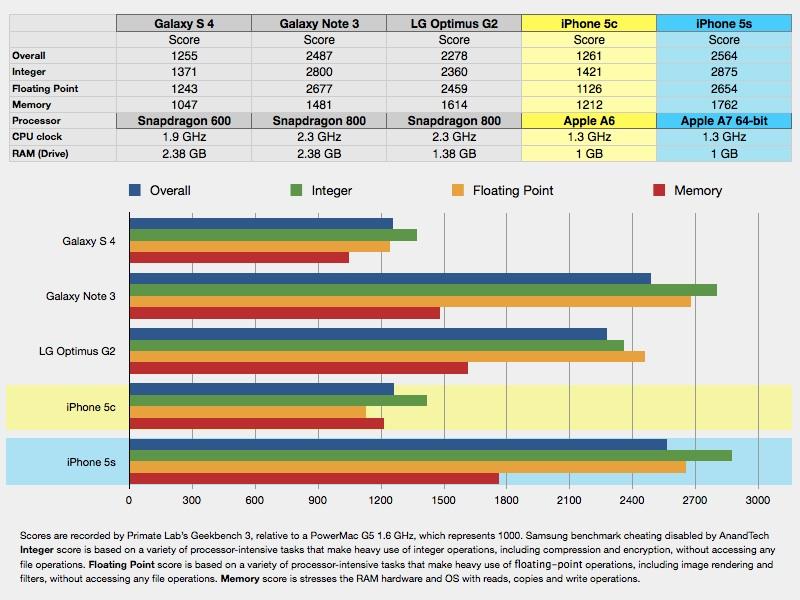 Samsung's U.S. Galaxy S4 handles benchmarks slightly slower than Apple's iPhone 5c (which is very similar to the iPhone 5 Apple released last year), while all of Samsung's smartphones still lack the 64-bit power and extended battery efficiency of Apple's A7-powered iPhone 5s flagship.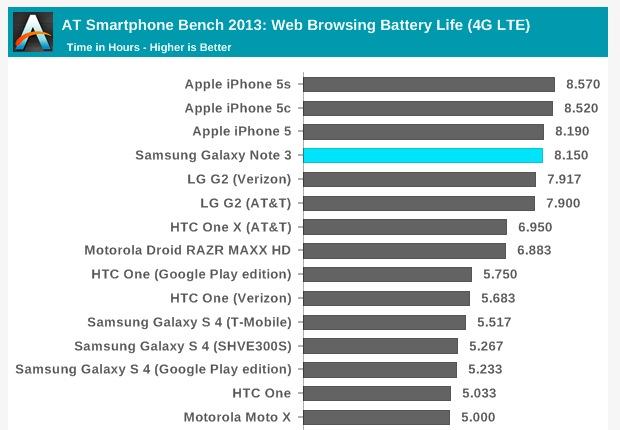 Over the last fiscal year, Apple reported sales of 150 million iPhones. Unlike Samsung, Apple is not reporting an end to high end sales growth. Instead, Apple's high end is growing faster (26 percent) than than the overall phone industry (7 percent), according to CNET.
That's a serious problem for Samsung, which makes about two thirds of its total profits from smartphone sales. Apple also relies very heavily upon iPhone sales, but it also has profitable Mac, iPad and iTunes, software and service related businesses, which generate ten times the profit of Samsung's struggling Chromebook netbook, Android tablet and Windows PC sales.