Thanks to iPhone, Japan becomes Apple's hottest market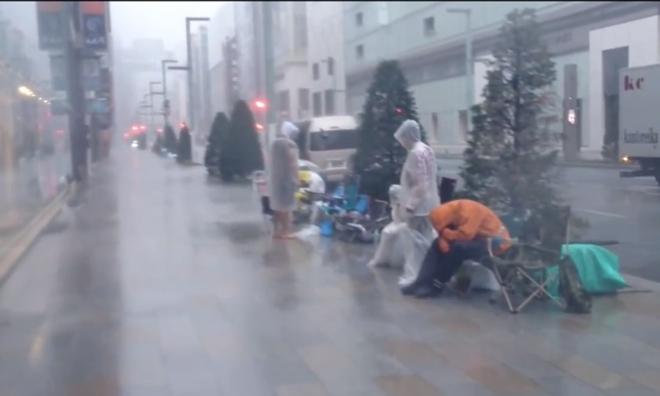 AppleInsider is supported by its audience and may earn commission as an Amazon Associate and affiliate partner on qualifying purchases. These affiliate partnerships do not influence our editorial content.
The iPhone and iPad have upended Japan's mobile device market, pushing out traditionally strong Japanese manufacturers and elevating the Land of the Rising Sun to the top of Apple's growth charts, according to a new report.
Japanese customers brave the wind and rain of a typhoon while lining up to be among the first to purchase an iPhone 5s during the phone's September launch.
With an estimated 37 percent of the smartphone market and 50 percent of the tablet market, Apple has seen explosive growth in Japan and the world's third-largest economy is now Cupertino's fastest-growing market, reports the Wall Street Journal.
Apple's sales in Japan soared nearly 30 percent during the last fiscal year, cushioned by margins 15 percent higher than those Apple enjoys anywhere else in the world, according to the report. In comparison, nearby China — Â which is regularly cited as an important growth market for Apple by people both inside and outside the company — Â saw sales growth of just 13 percent over the same period.
The iPhone's dominant market share is said to be due in part to Apple's brand positioning, which the publication places in the same tier as those of fashion houses Louis Vuitton and Burberry.
Eiji Mori, an analyst with Tokyo-based BCN, Inc., told the Journal that when Japanese consumers choose a new mobile phone, "[the choice is] not about specifications. It's not about rationale. It's about owning an iPhone."
The historically rocky relationship between Japan and Korea, which has given Japanese consumers a deep-seated bias against products from the neighboring peninsula is also cited as a tailwind for Apple in Japan. This cultural rift makes it difficult for Apple's global arch rival, South Korea-based Samsung, to gain a foothold.
Apple's success comes at the expense of stalwart Japanese electronics companies like Sony, Sharp, Panasonic, and NEC. The latter two have been hit so hard that they have chosen to fold and exited the smartphone business entirely, a once unthinkable fate.