Apple adds realtime collaboration, document organization to iWork for iCloud beta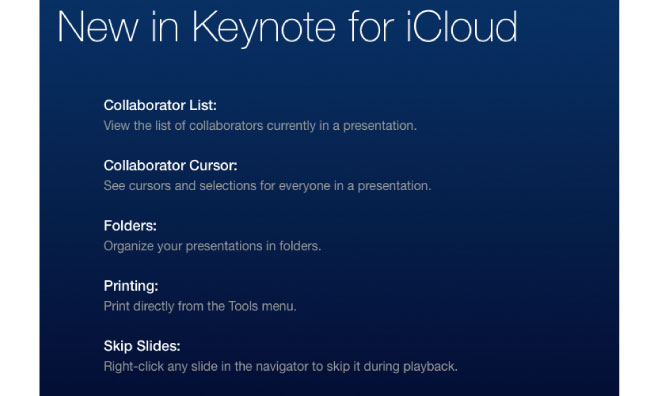 AppleInsider may earn an affiliate commission on purchases made through links on our site.
Building on Thursday afternoon's software update theme, Apple has released a new version of its iWork for iCloud office suite, rolling out new realtime collaboration features and adding some new administrative options.
According to Apple, the web-based versions of Keynote, Pages, and Numbers all gain similar collaboration abilities. Users can invite others to edit the documents, view a list of which users are making changes, and see the position of other users' cursors and selections.
Additionally, spreadsheets, presentations, and documents can now be sorted and organized into folders. Printing is also enabled from the toolbar of each app.
Keynote is the only member of the suite to benefit from an app-specific feature update, gaining the ability to skip slides during playback. Users can right-click a slide in the navigator to access the feature.
The collaboration features were revealed alongside the revamped desktop versions of the Microsoft Office competitor during last month's iPad Air event. At the same time, Apple announced it would make iWork free of charge to Mac owners, a move that has already prompted rival Microsoft to make significant updates to its own web-based tools.