Apple's iOS App Store still handily trumps Google & Amazon offerings in new analysis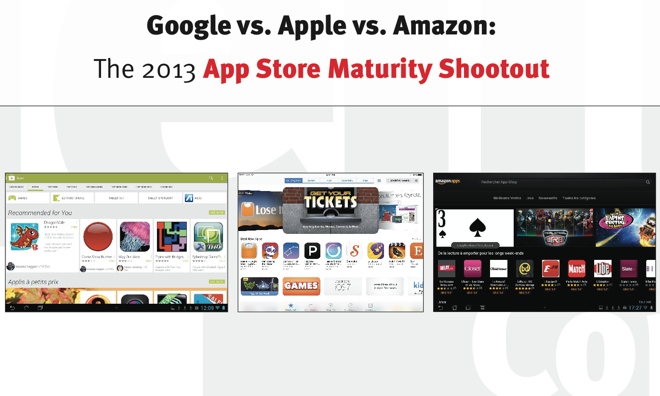 Apple's iOS platform is widely considered to have the best mobile application ecosystem, and a new analysis of the App Store comparing it to Google Play for Android and the Amazon Appstore for Kindle Fire supports the notion that Apple remains head and shoulders above the competition.
The three digital download destinations were pitted against one another in the Pfeiffer Report's "2013 App Store Maturity Shootout." All three stores were compared in four key categories: search, discovery assistance, an evaluation grid maturity score, and user experience friction.
When the overall results for each mobile application store were tallied by Pfeiffer, Apple was the clear top choice, earning a score of 53.1 out of 100. That handily beat Google Play, which scored 40.9, as well as the Amazon Appstore, coming in with a score of 34.1.
Pfeiffer still sees a great deal of room for improvement for Apple's iOS App Store, particularly in making it a destination where users can more clearly learn more about applications and trends in the market.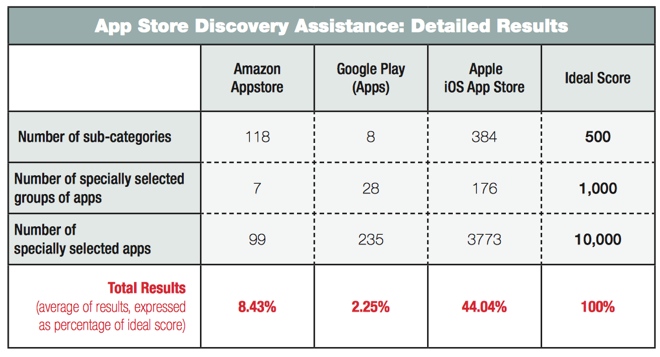 "Current app stores do not fully reflect the breadth and richness of apps that are out there," the report states. "They work fine if all you are interested in is the next bestselling game. If, on the other hand, you are talking about a truly original app — one that will drive the platform forward if it gets widely used — (then) the chances of being discovered are slim."
In terms of individual rankings, Apple blew away the competition in terms of discovery assistance and content curation, earning 44 out of 100 compared to an 8.4 for the Amazon Appstore and 2.25 for Google Play. Apple's iOS App Store was also the clear leader in the eight-category "evaluation grid" maturity ranking, which focused on factors such as clearly-labeled tablet-specific apps, as well as editorial content and recommendations.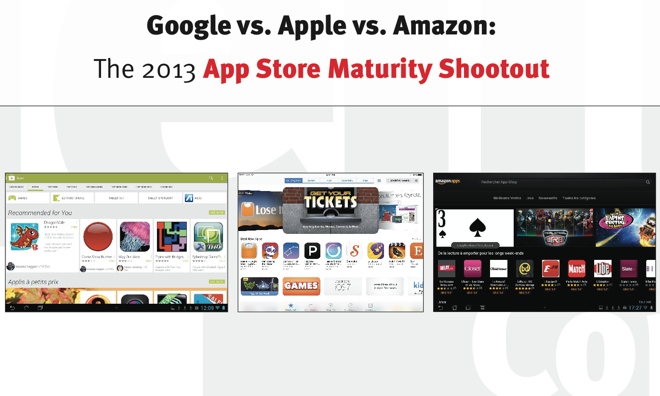 Apple lagged behind its chief competition, Google Play, when search capabilities and user experience friction were put to the test. Pfeiffer believes Apple should add natural language search to the App Store, and that the company should address what it sees as a "somewhat overpowering app store structure."
The three application stores were rated based on Pfeiffer's "2013 App Store Reference Definition," which the firm calls "an idealized set of features for a mature, sophisticated app store." The firm's proprietary "gold standard" serves as an independent reference by which to compare the different platforms from Apple, Google and Amazon.