Apple had ample supply of iPad Air, iPhone 5s over holiday weekend, Retina iPad mini was constrained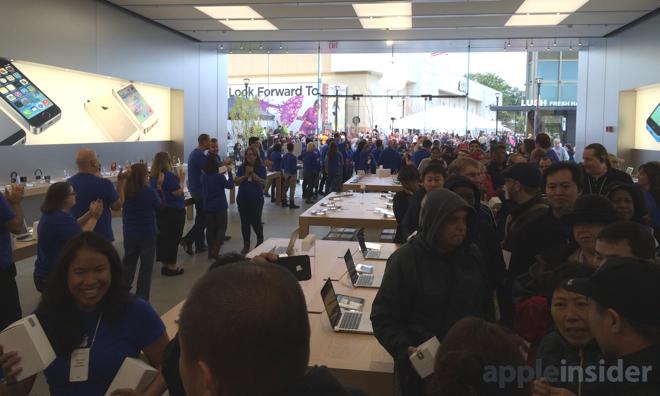 Apple's most popular products were met with strong demand over the Black Friday shopping weekend, and the company responded with plenty of iPhone 5s and iPad Air units available at its stores, though the new iPad mini with Retina display remains in short supply.

An Apple Store grand opening in October. Credit: AppleInsider reader Ryan.
Chris Whitmore of Deutsche Bank polled more than 100 stores over the weekend to assess demand for Apple's products. In all, about 50 Apple Retail Stores and more than 50 AT&T, Verizon, Sprint, Best Buy, Walmart and Target locations were surveyed, and online checks were conducted as well.
Whitmore found that demand for all of Apple's key products was "robust" and that the company has been able to supply solid levels of inventory at its own stores thus far for the holiday shopping season. Specifically, Whitmore found that the iPhone 5s was in ample supply at Apple's stores, while on the 128 gigabyte capacity of the iPad Air was sold out in a few locations.
The same couldn't be said for the iPad mini with Retina display, which has been in short supply since it first went on sale in November. The poll found the Wi-Fi-only model had a 13 percent stock-out rate at Apple stores, while the cellular-capable model was out of stock at 20 percent of Apple stores contacted on Friday.
At third-party resellers, the iPhone 5s was also found to be well-stocked. Only a few Best Buy locations polled by Whitmore were out of various iPhone 5s models.
Third-party supply of the iPad Air is more constrained, however, as Best Buy and carrier stores contacted on Black Friday saw stock-out rates of between 50 and 100 percent. Many stores offered special discounts on the iPad Air for the shopping holiday.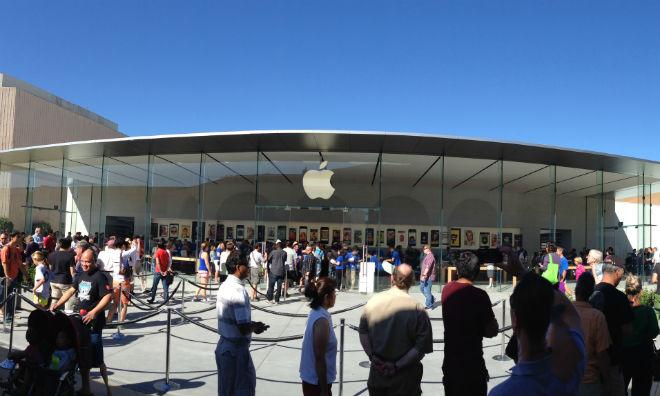 Walmart announced it sold 1.4 million tablets on Thanksgiving, and highlighted the iPad mini as one of its top sellers. eBay also revealed that it was selling Apple's iPad at a rate of one unit per second as of midnight.
Separately, analyst Gene Munster of Piper Jaffray conducted a survey of user trends on Twitter, and found that interest in the iPad and iPhone was split among Black Friday and Cyber Monday. Analyzing tweets with the hashtag "#BlackFriday" found that the iPad was the most popular product mentioned, while tweets with the "#CyberMonday" tag found consumers were most interested in the iPhone for the online shopping holiday.
Overall, Munster found that Apple was mentioned in conjunction with Black Friday 0.92 percent of the time, while it was mentioned for Cyber Monday 0.23 percent of the time. In comparison, Samsung was mentioned 0.2 percent for Black Friday and 0.29 percent for Cyber Monday, while the Android platform garnered 0.11 percent and 0.19 percent, respectively.
Consumers were not only interested in buying Apple products over the weekend, they were also actively using them to shop. One survey released last week found that the iPhone and iPad were used to place 82 percent of mobile sales on Black Friday, while Android devices accounted for just 18 percent.