China Mobile initiates iPhone 5s and 5c reservation system in Southern China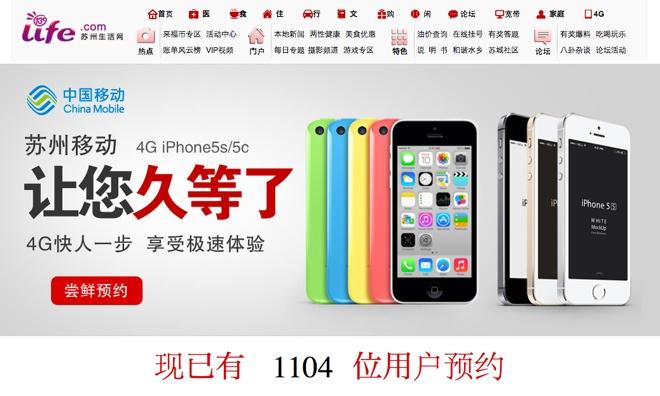 A China Mobile subsidiary in Suzhou opened up reservations for iPhone 5s and iPhone 5c orders on Monday local time in one of the first concrete signs that Apple is about to launch its popular smartphone on the world's largest wireless carrier.
The reservation webpage popped up as an advertisement on China Mobile's Suzhou Life Network Web portal, which serves up local news and entertainment for customers on the network. Fortune's Philip Elmer-Dewitt was first to spot the site.
As seen above, the page is not a direct preorder system, but instead allows customers interested in Apple's latest handsets to schedule an "appointment," or save a spot in line, to purchase the devices when eventually roll out. Currently, over 1,100 people have signed up.
According to the fine print, the reservation page is only open to China Mobile users in Suzhou, a major city of 5.5 million people located in China's Jiangsu Province. The site stipulates order priority for 4G iPhones will be given to those who sign up through the reservation system, but does not indicate when either the iPhone 5s or 5c will be available to buy. Instead, users are instructed to keep an eye on the Suzhou Life Network page or follow the network on microblogging service Sina Weibo for the latest information.
A report from China's state-run Xinhua News Agency in November cited industry insiders as saying both iPhone models were looking at a Dec. 18 launch date, the same day China Mobile is slated to activate its 4G network.
Rumors of a China Mobile-Apple deal have been circulating for years, some dating back to the original iPhone's debut in 2007. Aside from the Xinhua report, an Apple job posting from October revealed the company was looking for an engineer with expertise in China Mobile's unique TD-LTE and TD-SCDMA networks, prompting speculation of a near future release.
China Mobile is the largest cellular carrier in the world, with some 740 million subscribers spread across the Chinese mainland, Hong Kong and overseas.