Apple pegs iOS 7 distribution at 74%, iOS 6 at 22%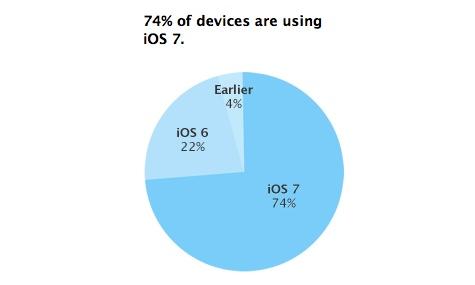 AppleInsider may earn an affiliate commission on purchases made through links on our site.
In a change to its developer website on Thursday, Apple notes the latest version of its iOS mobile operating system has hit a 74 percent adoption rate as of Dec. 1, a huge share compared to the 22 percent seen by iOS 6.
According to Apple, which based the numbers on App Store usage, the share of devices running iOS 7 is a whopping 74 percent. Given the short amount of time iOS 7 has been on the market — less than three months — the pick-up rate is astonishing. Apple first released the latest iteration of its mobile platform on Sep. 18 in concert with the iPhone 5s and 5c launch.
While iOS 7 adoption continues to outpace its predecessor, the older version is still running on nearly a quarter of all active devices. This means some 96 percent of iOS users are running the two most recent operating systems, the older of which is just over one year old.
Apple's numbers nearly mirror those of ad network Chitika, which on Wednesday released data regarding iOS device Internet traffic. According to the analytics, iPhone version distribution stood at 74.1 percent for iOS 7 and 22.4 percent for iOS 6 during the three-week period between Oct. 25 and Nov. 18. As for iPad users, some 9 percent were still using iOS 5, though the number can be attributed to the tablets' longer lifespans.
In the same report, the ad firm outlined Android fragmentation, which saw just over half of all users running the last-generation 4.1 to 4.3 Jelly Bean. Googles current Android 4.4 KitKat is only operating on 1.1 percent of devices, while 4.0 Ice Cream Sandwich and 2.3 Gingerbread account for 18.6 percent and 24.1 percent, respectively.