Apple to open larger San Francisco Stonestown store, new Duesseldorf location on Dec. 14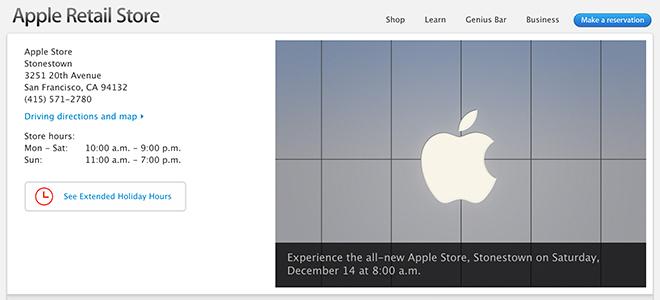 On Dec. 14, a newly expanded San Francisco Apple Store in Stonestown will reopen to the public, while on the other side of the world, a new location will have its grand opening in Duesseldorf, Germany.
Apple on Tuesday announced through its retail outlet finder that the Stonestown Apple Store in San Francisco will reopen its doors this Saturday.
Construction of the new 7,690-square-foot space began in April and more than doubles the size of Stonestown's previous Apple Store, which was the smallest in the city. Apple's two other retail stores in San Francisco range in size from 9,000 to 15,000 square feet.
Customers anxious to get some holiday shopping done can visit the replacement store from 8 a.m. to 10 p.m. local time, in line with Apple's extended holiday hours.
On the same day, Apple will be opening a new outlet in Duesseldorf, Germany, its thirteenth in the country. According to German language publication Macerkopf, the store is located in the Duesseldorf Köbogen mall, a new shopping center that already houses a number of luxury retailers.
The Duesseldorf Apple Store is set to open at 10 a.m. local time and the first 1,000 people through the door will receive a free commemorative T-shirt.