Apple falls to 35th spot in annual 'Best Places to Work' employee survey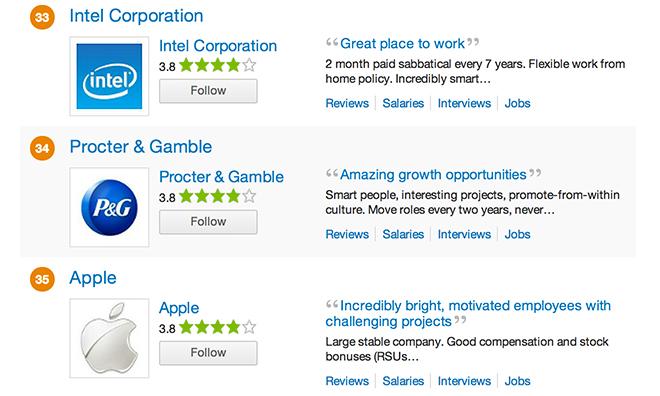 In job listing website Glassdoor.com's annual "Best Places to Work 2014" list, reviews from Apple employees put the Cupertino company at No. 35, down one spot from last year's finish.
After breaking into the top-ten on Glassdoor's list in 2011, employee reviews now have company in 35th place despite dropping only 0.1 points on a five-point "Satisfaction" rating scale. For this year's list, Apple received a score of 3.8 out of 5.
Glassdoor ranks the top 50 U.S. companies to work for based on responses from over 500,000 company reviews that came in over the past 12 months. Apple's score is the result of an average taken from 2,557 ratings. As for the company's leadership, CEO Tim Cook received an approval rating of 92 percent on 1,152 ratings.
The "Review Highlights" section, which generates snippets from extrapolated recurring keywords found in individual reviews, notes two "Pros" and two "Cons" of working at Apple:
"The pros are that you work with great people with great hours and great benefits"
"You get to meet a lot of great people since you are always in the public eye"
"Being relentlessly driven also means it is not easy to achieve work/life balance"
"Sometimes long hours because of product launches, but thats the best part of apple"
While Apple is flirting with the bottom fourth of the list, it is still the 16th-best tech company to work for in the nation. This year, technology firms accounted for 22 of the top 50, with giants Twitter and Facebook mixed in with smaller, less well-known companies like Slalom Consulting, an IT business services operation out of Seattle, Wash.
Overall, consulting firm Bain & Company took the top spot, followed by Twitter and LinkedIn, each of which received a score of 4.6. Facebook was the next tech company on the list at No. 5, while enterprise telecom services firm Interactive Intelligence came away with 6th place. Google and Qualcomm followed in 8th and 13th place, respectively.