Apple Japan announces 'Lucky Bag' day for Jan. 2, kids workshops for Jan. 3 - 5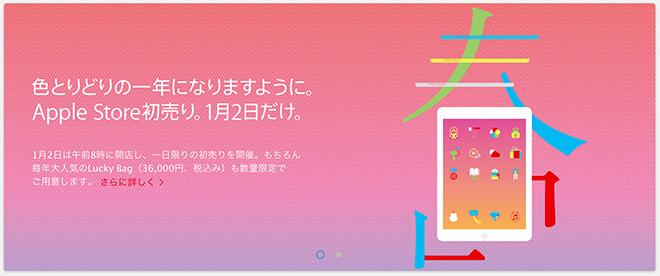 AppleInsider is supported by its audience and may earn commission as an Amazon Associate and affiliate partner on qualifying purchases. These affiliate partnerships do not influence our editorial content.
As expected, Apple has officially announced its annual "lucky bags" for Japan in celebration of the New Year holiday, which will also bring a special one-day online sale and free iPad workshops for children.
In an update to Apple's Japanese webpage, the company revealed sales of Fukubukuro, or "lucky bags," will commence on Jan. 2, with stores opening two hours earlier than usual to accommodate an anticipated crush of customers. Apple will also hold a one-day sale on the Online Apple Store and the Apple Store iOS app.
The first hint that Apple would be continuing its Fukubukuro tradition was seen on Wednesday, when the company published special Apple Store hours for early January. Apple's brick-and-mortar outlets across Japan are scheduled to open at 8 a.m. local time on Jan. 2 for the event, some two hours earlier than usual.
Apple's Fukubukuro promotion has seen customers net savings of over $500 per bag in previous years, as some bundles contained "special gifts" like MacBook Airs and iPads. This year's Fukubukuro are priced at 36,000 yen, roughly $343, but will likely contain products which hold a combined retail value of much more.
While the contents of each bag is unknown — part of the tradition's fun — Apple's ad for the promotion features a Kanji character for "Spring," into which multiple iPads are integrated, suggesting the tablet may be this year's special gift. As a side note, the app icons shown in the graphic are tweaked to represent common items associated with Japan's New Year holiday, including a kadomatsu (pine and bamboo decoration) for the Camera app, and a kendama (wooden ball and cup toy) for FaceTime.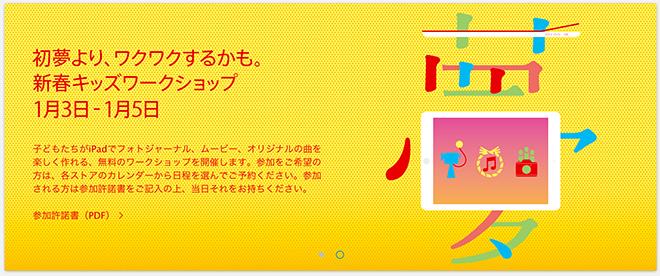 In addition to the Fukubukuro promotion, Apple also announced a three-day series of free kids workshops geared toward digital content creation on the iPad. The sessions are said to involve music, movie and photo journal projects assumedly built with Apple's first-party iLife apps.
As with the Fukubukuro ad, Apple's workshops graphic integrates two iPads — one with a slightly lifted Smart Cover — into the Kanji character for "dream." The three-day workshop series is slated to begin on Jan. 3 and will run through Jan. 5.