NPD: Chromebook sales outperform MacBooks in commercial sector as iPad loses ground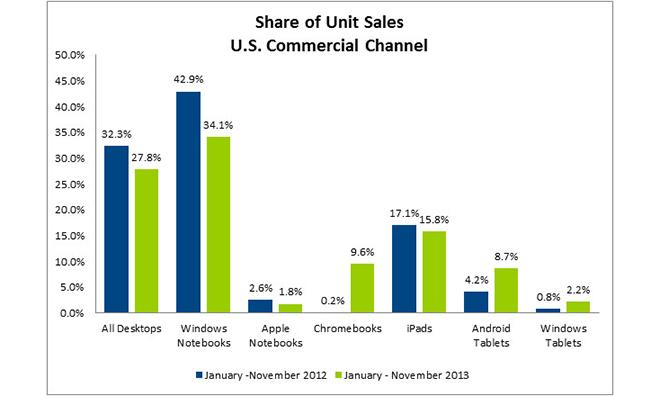 According to a recent NPD report, Apple hardware took a hit in commercial sales during 2013 while Google's platforms rallied; the largest gainer being Chromebook, which outsold MacBooks five to one.
From January to November 2013, research firm NPD saw a total of 14.4 million desktops, notebooks and tablets sold through U.S. commercial channels, representing a 25.4 percent jump from last year.
Overall, Apple's MacBook and iPad lines dipped in market share as competition from Google's Android and Chrome, as well as Microsoft's mobile Windows machines, picked up steam. Together, devices running Google's Chromebook and Android platforms accounted for 1.76 million units moving through the channel.
As noted by Computerworld the most dramatic change in the commercial channel was sales of laptops reconfigured with Google's Chrome OS. As seen in the above graph, so-called Chromebooks gobbled up 9.6 percent of the market from January to November, a massive 9.4 percent uptick from the same period in 2012.
Chromebooks took a commanding second place position behind stalwart Windows laptops, while previous No. 2 MacBooks dropped 0.8 percent to end November with 1.8 percent of the market.
From 0.1% in 2012, Chromebooks took 21% of all notebook sales — 8% of all computer sales — during the period from January to November 2013.Across product segments, Chromebooks accounted for 21 percent of all notebook sales and 8 percent of all computer and tablet sales during the period, up from one tenth of a percent in 2012, says NPD.
Chromebooks' usually low price of entry is a major draw for businesses looking to kit their staff with machines while staying under budget. With Chrome OS basically free to use, OEMs can keep complete system pricing low. The stripped-down platform does not require high-end internals to run, allowing manufacturers to further cut costs with low-resolution screens, low-end CPUs and other bargain-basement components. Chromebooks start as low as $199.
Despite the impressive gains, commercial sales are trending toward tablets, as seen by the drop in both desktop and laptop sales — Chromebooks excluded — and the rise of Android and Windows slates. Tablet sales accounted for more than 22 percent of all computing device sales in the commercial channel through November.
"The market for personal computing devices in commercial markets continues to shift and change," said NPD's vice president of industry analysis Stephen Baker. "New products like Chromebooks, and reimagined items like Windows tablets, are now supplementing the revitalization that iPads started in personal computing devices. It is no accident that we are seeing the fruits of this change in the commercial markets as business and institutional buyers exploit the flexibility inherent in the new range of choices now open to them."
Apple remained the clear leader in this segment with a 59 percent share, which translated to 15.8 percent of all personal computing device sales. That number is down 1.3 percent from last year. Android-based tablets climbed to 8.7 percent of all commercial sales, up from 4.2 percent in 2012. Microsoft's Windows tablets moved from 0.8 percent to 2.2 percent.

Finally, Apple retained the No. 3 spot in NPD's top personal computing device brands for the U.S. commercial channel with a 16.1 percent unit share, down from 17.9 percent in 2012. First place went to HP with a 30.4 percent unit share, while Lenovo finished second with a 23.3 percent share. Samsung came in third, jumping from a negligible 1.7 percent in 2012 to 10 percent this year. Due to overall market expansion, HP, Lenovo, Apple and Samsung showed positive year-over-year growth of 4.9 percent, 24 percent, 13.3 percent and 678 percent, respectively.
"Tepid Windows PC sales allowed brands with a focus on alternative form factors or operating systems, like Apple and Samsung, to capture significant share of a market traditionally dominated by Windows devices," Baker said. "Yet the Windows PC in commercial channels is clearly not dead, and its biggest brand proponents, HP and Lenovo, remain deeply committed to that product. However, as businesses upgrade from older machines and operating systems in the year ahead, the long-term trend is clearly towards greater hardware diversity, which all manufacturers will need to embrace in order to continue to grow."