Google takes aim at Apple's 'iOS in the Car' with Audi-Android partnership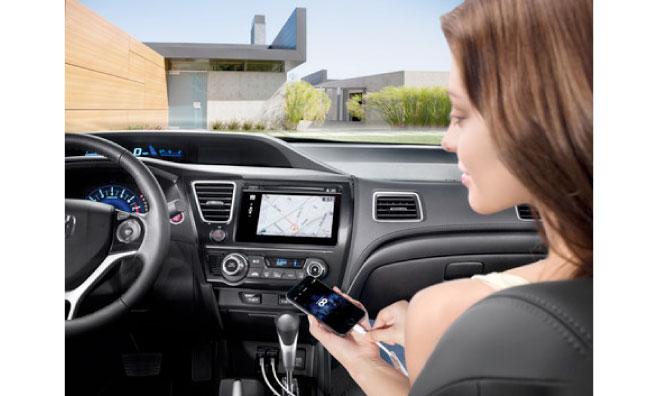 Apple is not the only major smartphone vendor with an eye toward a vehicle-integrated future, as Google is reportedly set to announce a collaboration with Audi that would have future cars from the automaker run in-dash systems based on Android.
Honda's Display Audio HondaLink Navigation powered by an iPhone
Mountain View, Calif.-based Google and Ingolstadt, Germany-headquartered Audi will unveil the partnership at next week's Consumer Electronics Show in Las Vegas, according to The Wall Street Journal. Other companies, such as graphics and application processor maker nVidia, are also expected to join the initiative to develop Android-based "infotainment" systems.
Similar to Apple's iOS in the Car strategy, which the company revealed at its annual Worldwide Developers Conference in June of this year, Google's end goal is to allow a vehicle's occupants to use the same apps and system functions on the in-car systems that they do on their Android-powered smartphones. One area where Apple and Google are said to differ, however, is in the idea's implementation.
Apple's initiative is designed with the iPhone as the "brain" of the system — Â that is, many system functions would not be available until an iPhone was connected, either via a wired tether or wirelessly through Bluetooth or Wi-Fi. Japanese automaker and Apple iOS in the Car partner Honda introduced such a system earlier this month for their 2014 Civic and 2015 Fit automobiles.
Google, in contrast, wants to run the software off of dedicated hardware inside the car, according to the report.
Audi's participation is particularly interesting as Audi's parent company, Volkswagen, has long had ties to Apple. Volkswagen and Apple collaborated on the iBeetle, a new version of Volkswagen's venerable compact that features deep iPhone integration, earlier this year, though the Wolfsburg, Germany-based automaker was notably absent from Apple's initial list of partners for iOS in the Car.
The Audi collaboration will be Google's first public partnership for Android in the automotive field, though one industry insider says that the open source mobile operating system has already begun making inroads even without Google's overt support. Rajeev Kumar, a business development executive with chipmaker Freescale Semiconductor, told the Journal that "we are starting to see an uptick of Android use in car makers, starting in Asia and working its way across the world."
Apple has already established deep relationships in the auto world. In addition to Honda, Mercedes-Benz, Nissan, Ferrari, Chevrolet, Infiniti, Kia, Hyundai, Volvo, Acura, Opel, and Jaguar have all announced support for iOS in the Car for 2014 models. Several of those have also begun integrating Apple's Siri Eyes Free functionality, a precursor to iOS in the Car that enables drivers to activate Apple's digital personal assistant with a steering wheel-mounted button and pipes both the driver's commands and Siri's responses through the vehicle's audio system.