Apple hits snags in 'iWatch' production, loses director of iPod software to Nest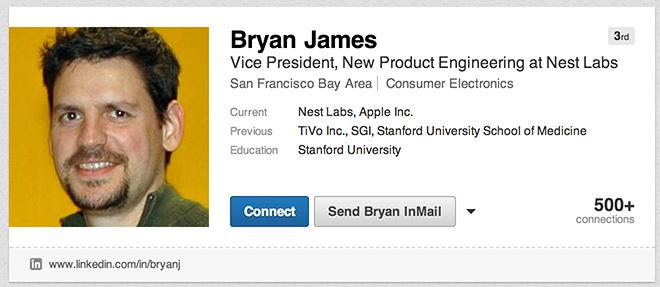 AppleInsider may earn an affiliate commission on purchases made through links on our site.
A new report published on Tuesday details the long and arduous road Apple's supposed iWatch is moving down as it moves from idea to consumer product, including fresh information regarding an iPod software director's departure to Nest Labs.
Apple has run into a number of challenges in bringing the so-called "iWatch" to market, reports The Information, though most appear to be in line with any new product launch. The publication provides a number of interesting tidbits, including the attrition of former Apple iPod software director and current Nest employee Bryan James, who reportedly worked on the project.
Now Vice President of New Product Engineering at Nest Labs, James was previously a director for Apple's iPod software team, a position he held for over seven years. It is unclear what role James played in iWatch development, but sources claim the software engineer was involved with various wearable programs, including an Apple-made offering that would have allowed iPod nano users to wear the device as a wristwatch.
James is also listed on a number of Apple patents, most of which relate to user interface designs and backend technology. Specifically, The Information points to a property "associated with a watch-like device" that also lists Nest cofounder Matt Rogers as an inventor, but AppleInsider could not find the document in question.
The pair of names show up together only once in the U.S. Patent and Trademark Office's database. Apple's U.S. Patent No. 8,380,507 covers voice activated features in a portable device that could theoretically be used in an iWatch, though no mention of "watches" or "wearables" is made.
With a supposedly growing team dedicated to the iWatch project, James may not have been a key player, but his background is interesting nonetheless. As of February 2013, Apple was claimed to have a 100-person team working on the initiative, but has been "aggressively hiring" additional personnel in the intervening months.
Some of those hires are rumored to have backgrounds in the medical field, suggesting the as-yet-unannounced wearable may incorporate bio sensors and other "quantified self" technology.
The Information also reiterates prior reports regarding Apple's production struggles thus far, including issues with screen technology. To this point, the publication cites people familiar with the project as saying Apple considered moving to a different display implementation late last year due to battery issues with older designs.
While quite possibly a foregone conclusion, the publication looks ahead to how the iWatch will perform in the coming tide of wearable devices. At this year's CES, a veritable crush of wearables has been announced, many from big-name tech companies like LG and Intel.
It remains to be seen if the market will take to the new form factor devices initially made popular by wristbands from Nike, Jawbone and Fitbit, among others. As with previous CES events, Apple seems to once again be the elephant in the room that isn't even there.