Apple opens official store on major Chinese e-commerce site Tmall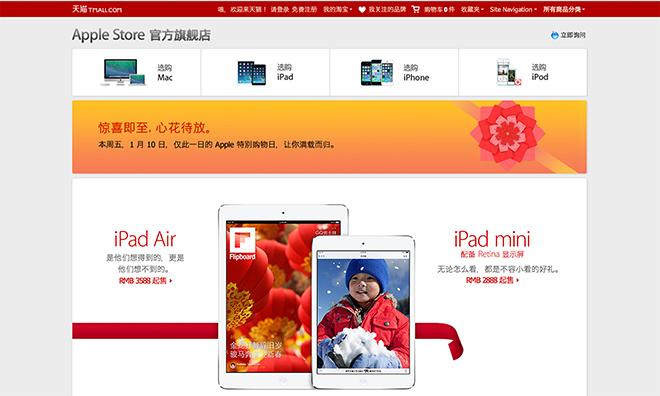 Apple now has two official online sales outlets in China after opening the virtual doors to a new storefront on Tmall.com, a large online marketplace run by China's largest e-commerce website Alibaba Group.
It is not clear when exactly Apple opened up shop on Tmall, but a representative from Alibaba said the page is official and went live recently, reports The Wall Street Journal.
Apple's Tmall webpage is nearly identical to the Online Apple Store, but with minor code modifications and links to the marketplace's payments system.
Tmall has been profiled as an "online department store" with a business model unlike familiar U.S. marketplace websites like Amazon or eBay. Instead of selling products directly, Tmall charges a deposit fee as well as a commission on sales. The site caters to larger merchants and worldwide brands, with companies like Nike and Levi's counted among its retailers. Rival manufacturer Samsung also has a presence on Tmall and prominently features its latest handsets on the page.
Apple's new Chinese outlet, which will join the company's Online Apple Store and ten brick-and-mortar locations, was presumably created to cast a wider net in the important Asian region as the battle for smartphone supremacy heats up. The company recently inked a deal to sell the iPhone on China Mobile's new TD-LTE network, though cheaper smartphones running Android have flooded the marketplace.
As China's economy strengthens, Apple has shown increasing interest in the country. For example, in its quarterly earnings report for the first quarter of 2013, Apple broke out Greater China as its own business segment.
Along with the new Tmall page, Apple's plans for China will move forward with an annual one-day "Red Friday" sale scheduled to take place online and in stores later this week. In addition to China, Apple Stores in Hong Kong, Malaysia, Singapore, South Korea, Taiwan and Thailand will take part in the event meant to celebrate the Lunar New Year.