Apple's Cook hands out first China Mobile iPhones at launch event [ux2]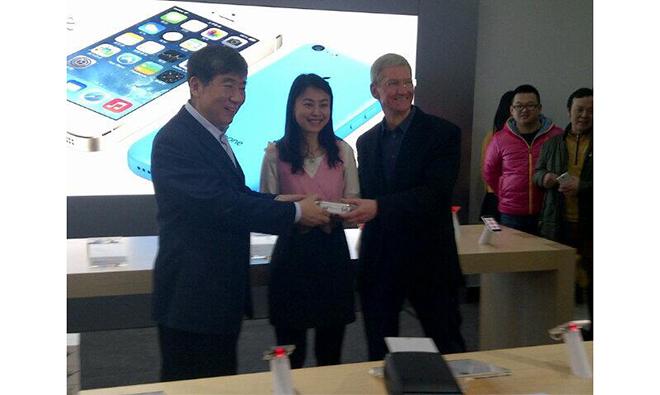 After years of speculation and rumors, the iPhone finally launched on the world's largest wireless carrier China Mobile on Friday, with Apple CEO Tim Cook and China Mobile Chairman Xi Guohua on hand to personally pass out the first units to customers.
Update: Subsequent on-the-scene reports from CNBC's Eunice Yoon note ten customers will receive iPhones signed by China Mobile Chairman Xi Guohua and Apple CEO Tim Cook. A photo from the reporter's Twitter feed is embedded below.
A photo posted to Twitter on Thursday by user "Jacobi" — spotted by AppleInsider reader Jim — shows what appears to be a fairly crowded China Mobile outlet that has reportedly started sales of Apple's iPhone. While not much can be seen in the photo, a number of camera lenses are also in the shot, suggesting the event is being covered by local media or China Mobile's in-house PR team.
China Mobile is slated to mete out the first iPhone 5s units to an unknown number of preorder customers on Friday, local China time. The telecom has been accepting reservations for the device since late December.
In a possible indication of early demand, a recent report claimed Apple partner carrier Foxconn shipped some 1.4 million iPhone 5s units to China Mobile to cover January's orders. It is unclear if the allotment is bound for existing reservation fulfillment or projected demand.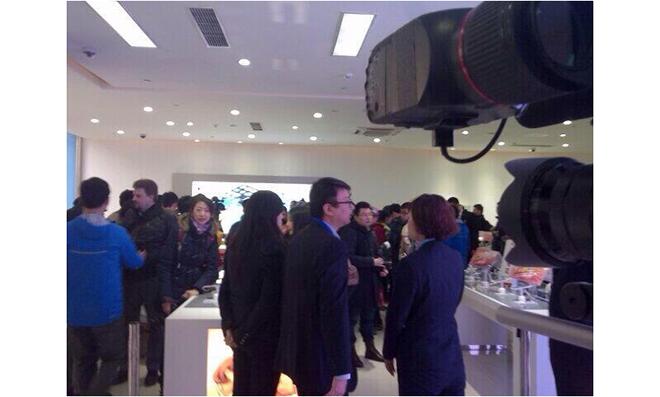 Source:
@Jacobi
via Twitter
According to Bloomberg, China Mobile announced iPhone-specific plans earlier this week and will only be offering the handset alongside its most expensive data tier. To be eligible for a fully subsidized iPhone, customers must sign a two-year contract worth 588 yuan, or roughly $97, per month.
Analyst projections for 2014 see the China Mobile deal driving an extra 12 million iPhone sales for the full 2014 calendar year. In comparison, Apple sold a combined 9 million iPhone 5s and 5c units when when the two smartphones launched worldwide in September of 2013.
Update 2: Apple CEO Tim Cook also tweeted a picture of his appearance at China Mobile's iPhone launch event (embedded below). According to Bloomberg, Cook was asked whether Apple was working on a larger-screened version of its handset. He gave an expectedly cagey reply.
"We never talk about future things," Cook said. "We have great things we are working on but we want to keep them secret. That way you will be so much happier when you see it."