NFL brings iOS-compatible beacon tech to New York for Super Bowl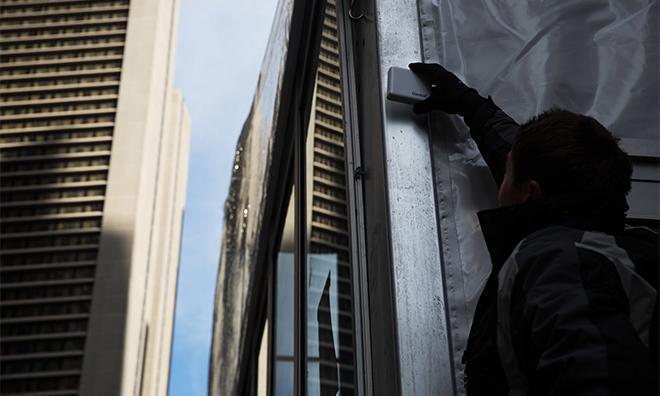 It was reported on Friday that the NFL has rolled out a micro-location beacon network in New York's Times Square and MetLife Stadium, with the transmitters set to serve up personalized ads to football fans during the Super Bowl.
Speaking with The New York Times, the National Football League's general manager of mobile Manish Jha explained that the beacon installation is an experiment to help gauge the effectiveness of micro-location ads.
"The power of this is it really is able to connect the real world, the brick-and-mortar world, with the virtual world with a level of granularity that hasn't existed before," Jha said. He added that the NFL will not connect personal and location data with the Super Bowl test, thereby protecting end-user privacy as the league figures out how to best leverage beacon tech.
Apple sparked interest in micro-location, or context aware, technology with iBeacon, a framework built on the Bluetooth Low Energy protocol. The location-aware iBeacons feature two-way communication, meaning the devices can advertise personalized specials to end users while tracking customer traffic information for store owners.
Other companies have jumped on board with their own systems that work in a nearly identical fashion and are usually compatible with iOS and Google's Android.
While not specifically mentioned in the article, photographs illustrating the NFL's beacon rollout show Qualcomm's Gimbal product line is being deployed. The company's inexpensive hardware, which can be purchased for as little as $5 per transmitter, is compatible with iOS, but is more limited in scope when compared to iBeacon.
Whereas Apple's protocol can theoretically leverage iPhones and iPads as transceiver beacons, Gimbal units can only be used on the content server and collection side. Currently two Gimbal models are available, the $10 Series 20 and the $5 Series 10. From the publication's photos, it appears the NFL chose to go with the more powerful Series 20 device.
The NFL is not alone in its hyper-personalized advertising effort. Earlier this week, it was reported that Major League Baseball will be rolling out thousands of Qualcomm beacons in 20 stadiums ahead of this year's season.
Those attending the Super Bowl — or who will be in the area — on Sunday can access the beacon network through the NFL Mobile iOS app.