App Store growth makes Apple's iTunes business alone more valuable than Xerox, CBS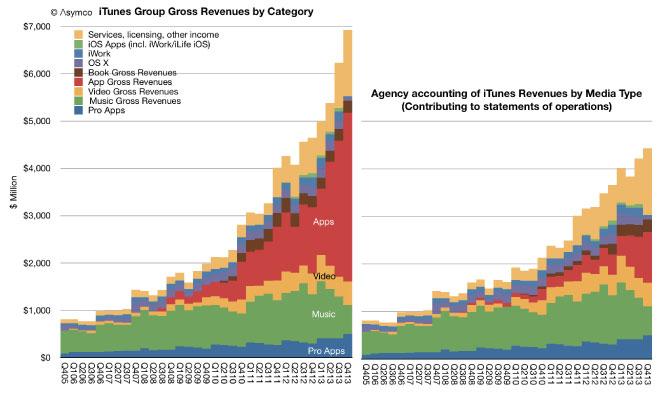 AppleInsider may earn an affiliate commission on purchases made through links on our site.
The explosive growth of Apple's App Stores has made the company's iTunes unit one of the most valuable businesses in the world, driving more revenue than old warhorses like Xerox, CBS, and U.S. Steel.
If the iTunes business were spun off, its $23.5 billion in gross yearly revenue would be good for 130th place on the annual Fortune 500 list, according to data compiled by Asymco's Horace Dediu. The iOS and Mac App Stores alone, with more than $10 billion in sales last year, would themselves slot in at number 270 ahead of credit firm Discover and casino giants MGM and Caesar's.
Dediu estimates that App Store revenues grew by 105 percent last year while sales from the iTunes Music Store declined by 14 percent, helping apps leapfrog music as Apple's largest source of content revenue for the first time ever. Revenue from software and services is also growing quickly, despite the fact that many of the company's software products are now free with new devices.
Overall, the iTunes business is growing at approximately 34 percent year-over-year.
The growth is likely to march on as Cupertino, Calif.-based Apple continues to post record-breaking hardware sales. The company sold 51 million iPhones and 26 million iPads in the just-finished holiday quarter.
Launched in 2008, the App Store now boasts more than 1 million apps in 24 categories with over 500,000 optimized for the iPad. Apple has served more than 65 billion cumulative app downloads in that span.