IDC critical of Apple for not selling profitless, sub $200 iPhones in market share report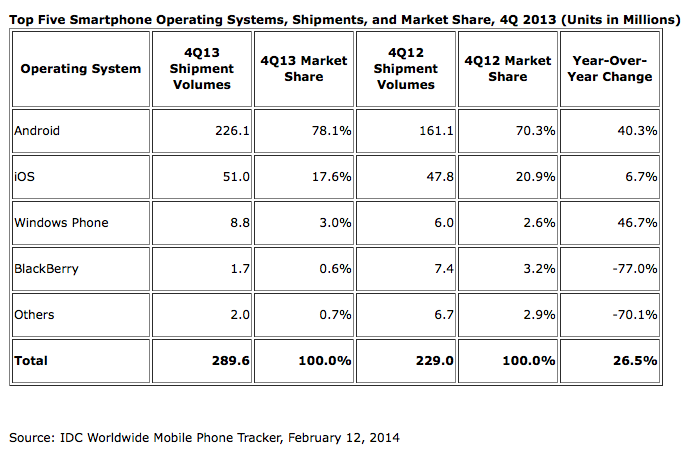 AppleInsider is supported by its audience and may earn commission as an Amazon Associate and affiliate partner on qualifying purchases. These affiliate partnerships do not influence our editorial content.
Market research firm IDC has reported new figures seeking to explain why Apple, the most profitable smartphone vendor on the planet, is "underperforming the overall market" by not emulating the profitless manufacturing of low end phones by its competitors, most of whom are losing money.
"Android relied on its long list of OEM partners, a broad and deep collection of devices, and price points that appealed to nearly every market segment," wrote IDC's Research Manager Ramon Llamas, without providing any context on how that strategy resulted in lost profits for the majority of manufacturers who use Android, including Google's own Motorola subsidiary.
"Apple's iOS, on the other hand," Llamas continued, "relied on nearly the opposite approach: a limited selection of Apple-only devices, whose prices trended higher than most. Despite these differences, both platforms found a warm reception to their respective user experiences and selection of mobile applications."
IDC failed to note that software development for Android failed to keep pace with iOS, both among consumers and in the enterprise, where Apple's iOS now accounts for 73 percent of corporate mobile deployments.
Instead of focusing on platform health and profitability, IDC recommended that hardware vendors look only at its research that "shows that consumer buying is rapidly shifting toward products with significantly lower price points," which is exactly what IDC recommended PC makers pursue prior to the largest retraction in the computer market ever.
That shift in PCs was best weathered by Apple and its premium Mac business, while low end makers of netbooks and cheap PCs have performed poorly, with Dell even evaluating plans to leave the consumer PC market entirely.
Go Cheap!
IDC's Ryan Reith noted that "In 2013 we saw the sub-$200 smartphone market grow to 42.6% of global volume, or 430 million units," but the firm did not break down how much of each platform was made up of these low end, ultra cheap devices.
Given that Apple doesn't sell any sub-$200 phones, it becomes obvious that the vast majority of these low end devices were fleshing out Android's 78.1 percent unit share of the "smartphone market" and accounting for the majority of its growth.
That growth comes at the expense of ASPs and margins. IDC now reports that Android's Average Selling Price has plummeted to $276, in stark contrast to Apple's iPhones which still command $650.
In November, IDC's numbers indicated that two thirds of "smartphones" associated with Android were actually low end devices selling for an average of $215, as Samsung reported to investors that its high end models "stayed at [a] similar level" while "mass market models" led its shipment growth.
Reith also commented that Samsung's efforts to put its Galaxy brand on both low end devices and higher end models like the Note 3 and S4 "has been an important factor in how Samsung has sustained its market lead."
However, Samsung is well known to have spent an incredible $14 billion on marketing and promotion in 2013, a figure that is the real reason why carriers and retailers are selling Samsung devices rather than the similarly priced products of other Android makers. Samsung is under increasing pressure from its investors to dial back its marketing budget, particularly as its results have fallen short of the expectations tied to that spending.