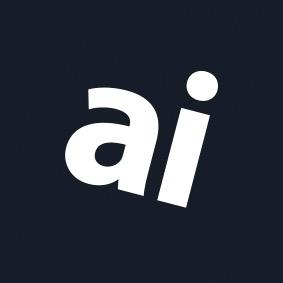 Why you can trust AppleInsider
Review: Corning's Thunderbolt Optical Cable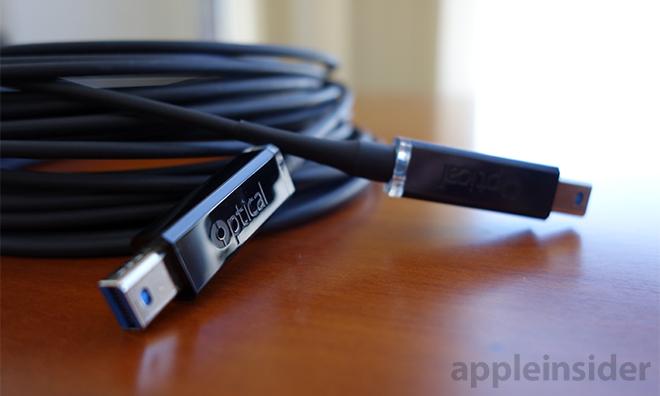 Corning Thunderbolt Optical Cable
4.5 / 5
---
Already in its second generation, the Thunderbolt I/O protocol has been around for three years, but only recently did manufacturers begin production of optical cables to deliver the tentpole feature of long-distance data transfer. AppleInsider was able to test out this highly anticipated addition with Corning's 10m all-optical Thunderbolt cable solution.
After months of development, glass manufacturing giant Corning — which produces the Gorilla Glass used by Apple in its iOS product line — was first to bring an optical Thunderbolt cable to market late last year. With Optical Cables by Corning, the promise of long-distance high-speed interconnects, touted since the first-generation Thunderbolt-equipped computers hit store shelves in 2011, has finally been fulfilled.
Design
The ten-meter Corning Thunderbolt Optical Cable is extremely light; its weight is perhaps one of the first things we noticed when taking it out of the box. Compared to a conventional copper or metal-core Thunderbolt cable, such as Apple's branded two meter variant, the difference is immediately evident.
Traditional cables pack in individual wires, shielding, insulation and braids into a usually thick jacket. Using a laser engine solution, the Corning cable does not require the same support structures and is essentially one strand of glass-based fiber with an 80-micrometer core covered by rubberized sheathing.
The one component that is larger than the corresponding part found on a regular copper Thunderbolt cable is the Optical's plug. While not substantially thicker, the plug is made longer to accommodate a transceiver, converter and incorporated laser.
In transferring data, the first plug converts an incoming signal from electrical to light energy, which is subsequently transmitted through the fiber to a second plug. Light is then reconverted into an electric signal and fed into the accessory or host computer's Thunderbolt controller.
Corning fits all conversion processing logic and associated hardware into the small rectangular plug, which sips power from Thunderbolt's drive line to function. As a Class 1 Laser product, the Optical is basically a small powered extension of a computer's Thunderbolt I/O hardware; a necessity to transfer data at speed over long distances.
With Thunderbolt's optical requirements, the light engine is offloaded to the cable, thus allowing for backwards compatibility with earlier versions of the protocol and less hardware for the host machine.
Corning is using its proprietary ClearCurve VSDN optical fiber in the Thunderbolt Optical. A slender yet robust material, ClearCurve can handle a surprisingly high level of abuse. The fiber can be twisted, bent, tied into knots and squeezed without detrimentally affecting data transfer. This is a good trait to have, especially since the ultra-thin and long cable becomes easily tangled.
Despite being eight meters longer than the Apple cable, the Corning wraps into a neat and manageable bundle thanks to its ultra-thin core. Unlike other advanced cable technologies, the Optical can be coiled without a special winding regimen, though we would advise the "over under" method to preserve joint integrity.
Overall build quality is very high; the plugs, cable and joints all feel solid. It should be noted that, while rugged, any damage to or break in the cable will likely require replacement. Unlike copper, fiber is not easily patched and threshold tolerances in optics alignment are extremely tight.
In Use
In our tests, we connected Apple's latest Mac Pro to Promise's Thunderbolt 2-equipped Pegasus2 RAID array (which we reviewed earlier in February), a late-2013 MacBook Pro with Retina display and other various Thunderbolt storage accessories.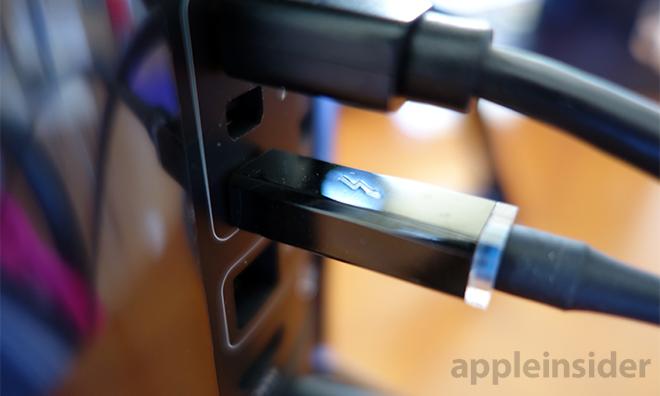 First we ran a few performance tests with the RAID array, swapping out the Corning with the two-meter Apple cable and a one-meter generic. There was no distinguishable difference in speed between the three products. Peak read speeds hit 454 MB/s, while write speeds topped out at 540 MB/s. We did note fluctuations in read/write times, but since it occurred with each cable, we attributed it to the RAID 5 setup and OS X's handling of the corresponding logical drive.
To get a more reliable reading, we switched to file transfers between the Mac Pro and Retina MacBook Pro. Here, speeds were much more stable thanks to each machine's internal SSD and zippy PCIe interface. We were able to transfer 3GB movie files in less than five seconds and batch moves were equally as fast. As our test machines don't have terabytes of storage, we could only test files and folders up to approximately 100GB in size.
During testing, the plugs reached temperatures much higher than any other consumer interconnect we have used. Corning assured us that the composite caps may become warm to the touch, but assured us that the thermals are within Intel's specifications.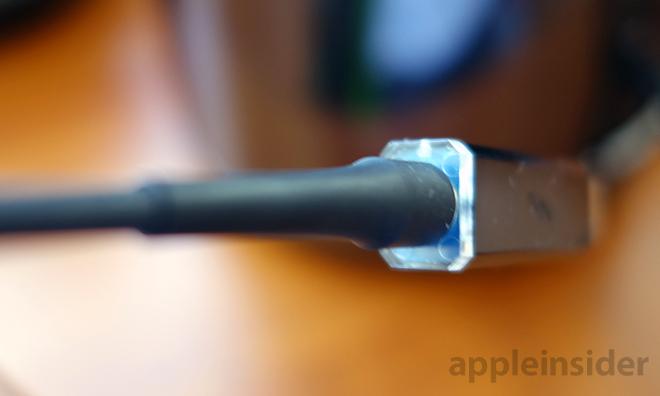 Since performance is identical to non-optical competitors, the next logical comparison is implementation. This is the Corning's main draw and it delivers. Copper Thunderbolt cables are limited to three meters in length, while the Optical starts at ten meters and can go up to 100 meters.
Previously, professionals had to keep Thunderbolt storage and accessories within arm's reach of their computer, but the Corning Optical lets them put those devices away from their workspace, even in another room. The cable's thin profile also allows users to inconspicuously snake the cable along a wall's baseboard, effectively hiding it from view and protecting it from accidental removal.
Finally, the Optical's single-body structure makes it highly flexible. Whereas copper Thunderbolt interconnects are thick and difficult to maneuver, Corning's version is easy to work with even in the tightest of spaces.
Conclusion
Corning's Thunderbolt Optical Cable is a well-designed and durable interconnect. Compared against thick copper cables, the deceivingly thin and light cable can take as much or more abuse from everyday wear and tear.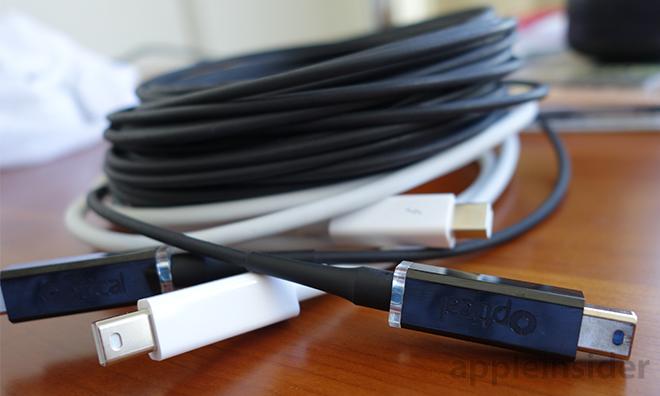 This is not to mention that it's one of the only fiber Thunderbolt cables on the market. Aside from Corning, not many manufacturers are ready to enter the nascent market. One alternative that comes to mind is Other World Computing's recently-released 10-, 20- and 30-meter cables, though we have yet to test a sample and cannot comment on the lineup's performance.
For users who want the fastest connections speeds at distance, there is little choice but to pay the premium for Corning's offering. All things considered, however, the price is representative of the cable's design, materials and manufacturing, making it an easy recommendation.
One thing to consider before buying is that the Optical can only be used with self-powered accessories. The cable is not compatible with devices that require power from a host device, examples being certain bus-powered portable hard drives.
Score: 4.5 out of 5

Pros:
Super thin and light
Maintains Thunderbolt speeds well over ten feet
Well constructed
Cons:
Pricey compared to other I/O tech.
Must replace upon breakage.
Where to Buy