Review: Promise Pegasus2 Thunderbolt 2 RAID array for Apple's latest professional Macs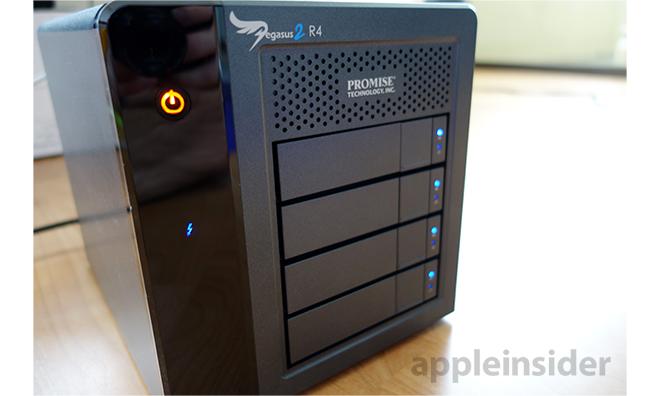 Promise Technology's Pegasus2 RAID storage solution was one of the first products to sport the latest Thunderbolt 2 , offering blazingly fast read/write speeds for data-intensive operations.
Following Intel's announcement of Thunderbolt 2 in January 2013, products harnessing the super-fast transfer protocol are finally coming to market. Apple's late-2013 MacBook Pro with Retina Display was the first computer to incorporate Thunderbolt 2, but at the time there were few accessories that supported the technology. Promise changed that in December when it launched the world's first Thunderbolt 2 RAID array.
Built around the PMC Sierra 8011 RAID-on-chip processor, Promise's Pegasus2 controller comes with 512MB of DDR2 SDRAM to push data through Thunderbolt 2's bi-directional 20Gbps channel. The version we tested, dubbed the R4, comes with four 2TB 3.5-inch 7200RPM SATA drives preinstalled; in our case units from Toshiba. Pegasus2 also comes in 6- and 8-drive configurations with support for 2.5-inch SSDs as well as 2.5-inch and 3.5-inch Hybrid HDDs.
Design
The Pegasus2 is identical to the previous generation Pegasus save for a color swap from silver to matte black. Not a huge difference, but the change is a nice touch that keeps with Apple's new all-black aesthetic seen with the Mac Pro.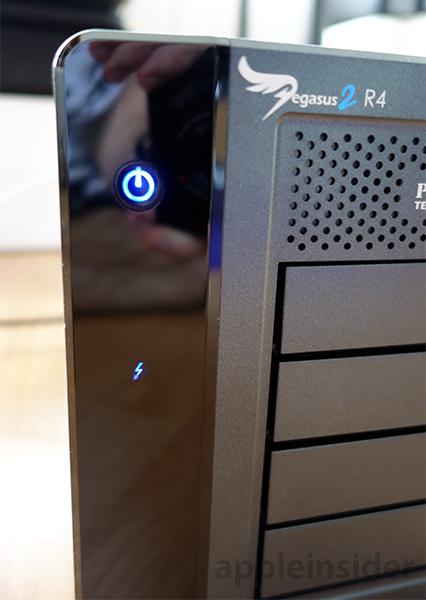 As seen in the photos above, a translucent strip of plastic runs down the left side of the enclosure. Two LEDs situated behind the feature glow blue when a Thunderbolt cable is attached to one of the rear input ports. A tactile power button with integrated multi-colored LED is set near the top of the plastic bar and acts as an onboard system status light.
Positioned on the right of the enclosure are the hard drives, which are attached to Promise's easy-open carriers. As with many newer multi-drive direct and network attached storage products, the Pegasus2 ditches key-and-lock or screw-type bays that were often difficult to operate (or near impossible if you happened to lose the key).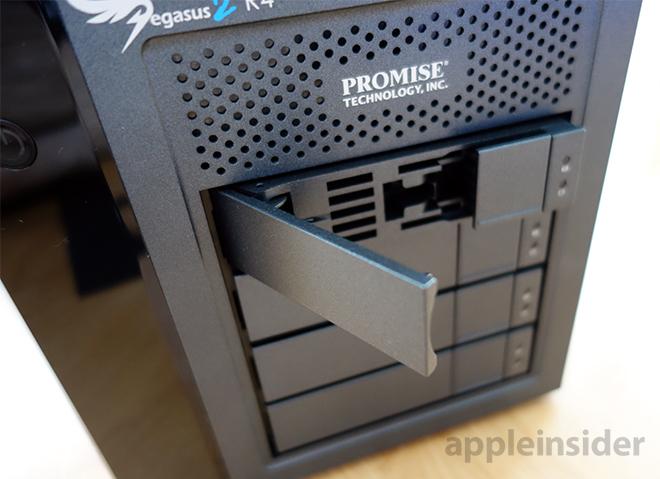 As with the first-generation Pegasus, the Thunderbolt 2 model features spring-loaded drive carrier handles that disengage from the cage with the press of a button. Once released, the plastic handle pivots outward as seen above, allowing for easy removal and drive swapping.
The system is fairly well protected against accidental drive removal as the user must first apply a decent amount of pressure to disengage the button lock, then physically pull the drive out of its socket via the handle.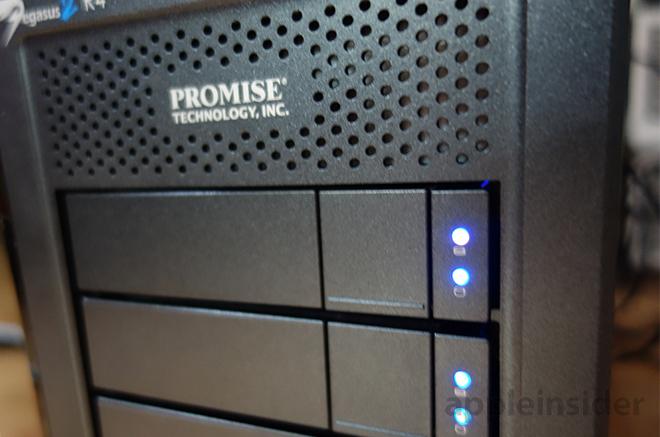 A pair of LEDs on the drive carrier show drive status and activity for that particular bay. For example, if a drive was removed accidentally and reinserted, the system would consider it dead and the status light would turn red. The activity LED glows blue when a drive is detected and blinks when the drive is active.
For a four-disk array, the R4 is solid but not overly heavy, coming in at slightly under ten pounds empty. With four drives installed, the weight jumps up to over 15 pounds, though the package is still manageable and can easily be moved around a workspace if needed.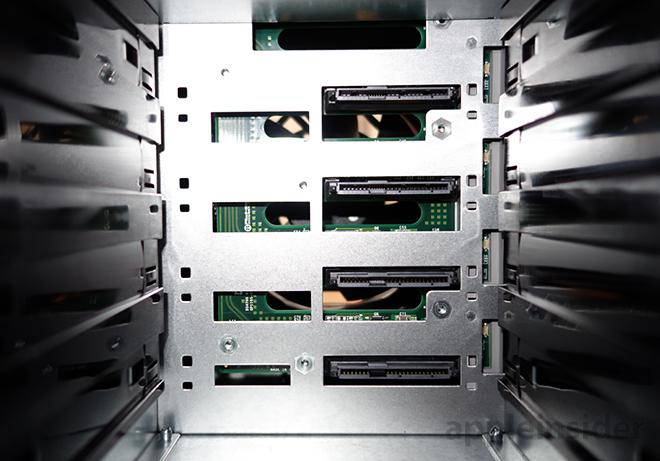 On the back, a large low-RPM fan sucks heat out from the drive portion of the chassis, while a smaller blower pushes air over the controller circuitry. Both fans were near silent when spooled up to operating speed and allowed to run for extended periods. Sound dampening is enhanced by four large vibration-absorbing rubber feet.
Above the larger fan are the R4's two lone Thunderbolt 2 ports. The positioning makes it ideal for blind plugging and unplugging, but depending on unit placement, the hot exhaust air tends to collect near the cable plugs. While temperatures remain well within spec of the Corning Optical Cables we were using, over time the warm air may degrade lower quality connectors.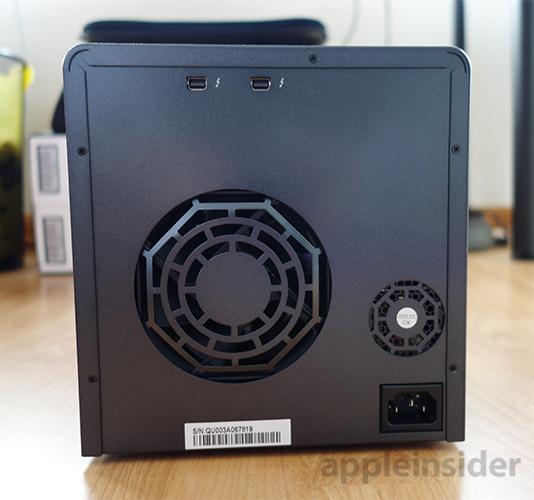 Setup
For reference, we mated the R4 with a quad-core 2013 Mac Pro and Apple's latest MacBook Pro with Retina Display, both of which boast Thunderbolt 2 ports. For interconnects, we used Corning's Optical Thunderbolt Cables, Apple's Thunderbolt cable and the unbranded model provided by Promise.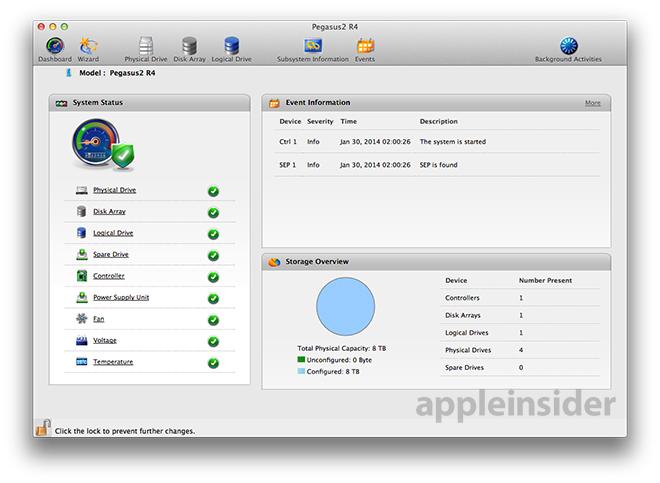 Powering the unit up from a cold start takes about 20 to 30 seconds depending on the RAID configuration. Once on however, the drives spin up in seconds, making the logical drive accessible when waking a Mac from sleep. Users can turn the unit on or off via the physical power button or by unplugging the Thunderbolt cable.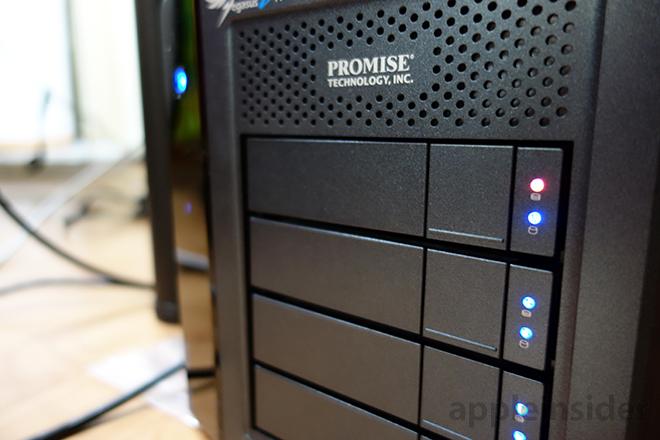 A warning note comes with the unit, instructing users that their new array must be plugged in and attached to a host computer in order to properly build the logical drive. The process takes quite some time to complete — in our case a little under five hours — and mileage will vary depending on storage size.
It should be noted that OS X will recognize the R4 as a single logical drive, meaning the global Energy Saver settings in System Settings apply. For example, when we left the array attached to our 2013 MacBook Pro with Retina Display, Mavericks would spin the drives up when Power Nap was enabled. On the Mac Pro, we left the "put hard drives to sleep" option unchecked, thus defaulting the R4 to the Promise Utility software's settings.
Promise pre-configures its Pegasus2 arrays from the factory in RAID 5, a "best of both worlds" level that offers good speeds and redundancy across the four physical drives. The R4 can handle RAID 0, 1, 1E, 5, 6 and 10 (1 + 0), while the larger R6 and R8 support RAID 50 (5 + 0). The biggest of the bunch, the eight-drive Pegasus2 R8, is capable of RAID 60, otherwise known as RAID 6 + 0.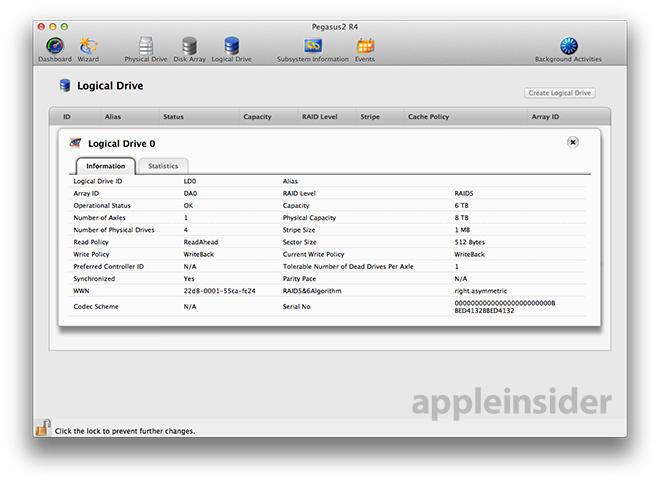 In its stock RAID 5 configuration, the R4 was plenty fast with the striped setup and distributed parity. For those wanting more speed or safer mirroring configurations, Promise offers an automated "Wizard" utility that can set up the array and logical drive to desired specifications.
Those just starting out with RAID arrays don't need to fiddle with the settings, but the GUI-driven tool offers professionals and power users the ability to reconfigure their arrays, add non-matching drives and diagnose problems. In addition to the setup features, the Promise Utility also gives a comprehensive real time look at system vitals like temperature, I/O speeds and other metrics.
In use
Pegasus2 lives up to the Thunderbolt 2 hype. In our tests the logical drive clocked in with speeds up to 540MB/s read and 454MB/s write, while real-world sustained speeds came in at just below 300MB/s. This is more than enough bandwidth to edit full resolution 4K video in real time.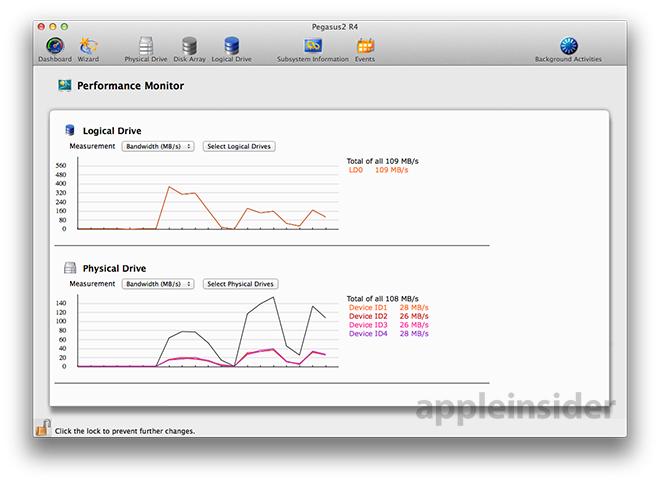 Thanks to the Mac Pro's six Thunderbolt 2 ports and three buses, we were able to drive Sharp's gorgeous 4K monitor on one bus while keeping the Pegasus2 routed separately for maximum throughput.
Read and write speeds did not come close to hitting Thunderbolt 2's 20Gbps barrier. When using a 4K monitor, however, the story changes somewhat considering the available pipeline will be mostly reserved for pushing pixels. Those with a Mac Pro have little to worry about here, but MacBook Pro owners may find diminished bandwidth depending on setup and workflow.
For many users, the Pegasus2 can be a completely plug-and-play machine for file backups, Time Machine saves and multimedia storage, though the product's real power lies in its ability to access huge amounts of data at high speeds. With Thunderbolt 2, accessing mass storage is no longer the bottleneck for professional workflows. This means — in most cases — no transferring footage to an internal drive for rendering or waiting for data to load.
Using the device is straightforward as the single RAID 5 logical drive is easily accessible from the desktop (or in the system folder). Drag-and-drop is of course supported, as are other consumer-minded features.
The Pegasus2 offers a fairly deep selection of settings, control and monitoring tools in Promise Utility, making the package a good choice for professionals as well. For example, users have access to advanced RAID controller information like data transfer speeds, I/O requests, errors, data transferred and other statistics.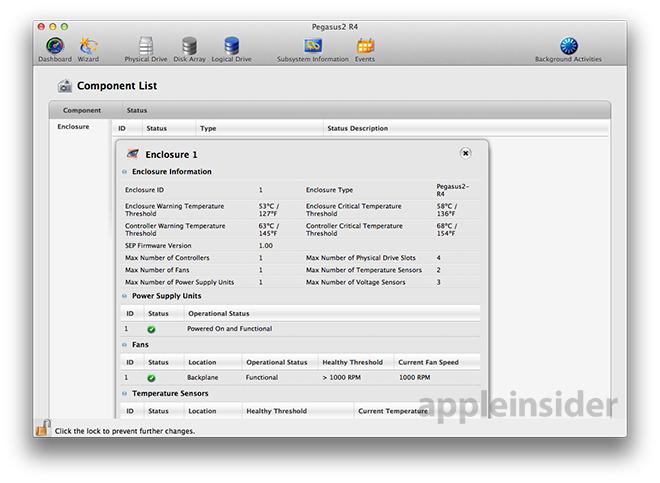 Some controller settings are also customizable and include SMART data retrieval, cache flushing and coercion method, among others. This is in addition to the usual hardware monitoring information like drive and enclosure temperatures, fan speed and system stability data.
We also tested out the Promise Utility's "Background Activity" tools, which contains a suite of software assets for automatically managing the drives. All operations can be set to run according to a scheduled or predefined set of time parameters.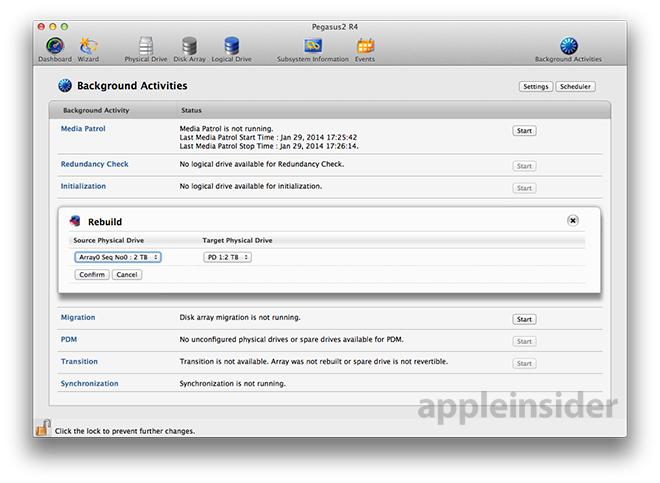 For example, Media Patrol monitors the viability of HDD hardware, while Redundancy Check checks for properly matched data in redundant (mirrored) disk arrays. These disk health tools come in handy for critical data applications, acting as a kind of secondary protection against data corruption or loss.
The remaining Background Activity tools allow users to configure storage capacities, change RAID levels and initialize the logical drive. All the features worked as advertised, though we would have liked to see a bit more granularity in scheduling tasks.
No RAID array would be complete without a rebuild function. For this test, we yanked one of the physical drives out of the R4, causing an immediate and critical logical drive error. As seen in the screenshot below, the system automatically put the three remaining drives into power saving mode to prevent data corruption.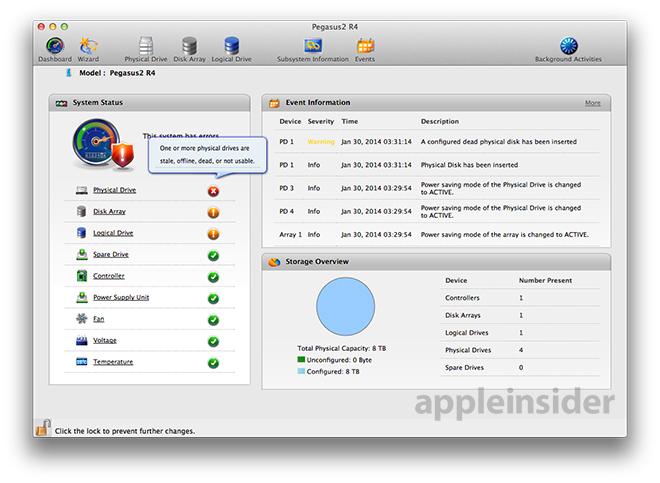 To simulate a dead drive, we left the HDD removed and reactivated the remaining HDDs. In our tests, all data was present as parity was distributed across the drives. RAID 5 requires at least three active HDDs to ensure complete data parity, however, so we removed another drive.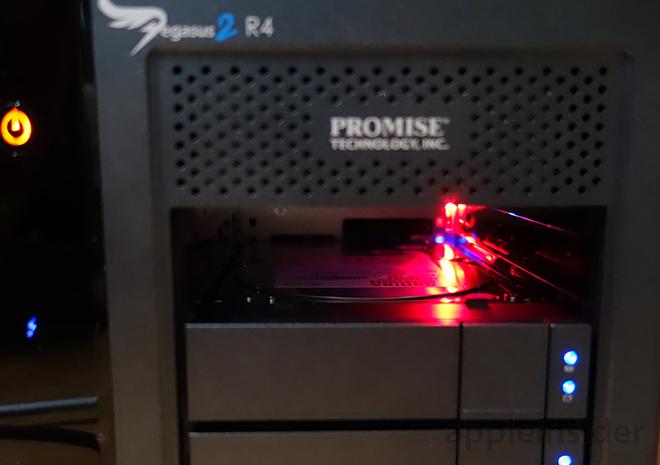 As expected, the R4 refused to be recognized by OS X as a logical drive, though the Promise Utility was able to maintain physical drive statistics. To rebuild, we reinserted the drives and opened the Promise Utility's Rebuild feature — confusingly located in "Background Activities." The software walked us through the process of selecting source and target drives, renaming the new physical drive and creating a new alias for the logical drive. The software takes over from there. Overall, the process took less than 15 minutes.
Conclusion
The Promise Pegasus2 is a well designed and managed DAS with top-of-the-line hardware backed by a comprehensive software suite. More than enough for the average user, the package is easy to recommend for those who value speed over cost. At $1500, the complete setup is pricey for the everyday consumer, but not outrageously expensive for professionals.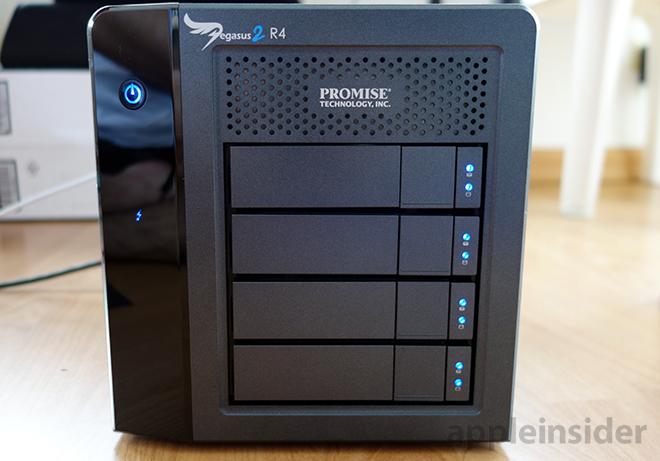 To be clear, the R4's performance is solid and can be used as a workhorse. The only drawback with the four-bay design is its limited capacity. Pros will definitely want to spring for the six- or eight-drive models, especially when using non-striped redundant RAID levels.
Score: 4.5 out of 5

Pros:
Fast sustained I/O speeds
Quiet operation
Powerful utility and diagnostics software
Cons:
Limited storage capacity
Bland design
Speed comes at a price
Pricing and availability
The 8TB Pegasus2 R4 retails for $1499 and is currently available for $1,454 complete with drives pre-installed. Promise's larger R6 comes in 12TB and 18TB configurations and sells for $2,230 and $2,900, respectively. Finally, the 24TB and 32TB R8 come in at $3,491.00 and $4,460.
These are currently the lowest prices we could find for these drives, with the added benefit of no sales tax outside of NY. This will account for an additional $115 to $350 in savings, depending on the model. You can also check prices daily in AppleInsider's Mac Storage Price Guide.
We were fortunate enough to test the 8TB Pegasus2 R4 for several weeks, but the drives were initially hard to secure. As such, we'd also like to thank B&H Photo for its help in securing one.