Apple's holiday Mac shipments outpaced PC growth by largest margin in 5 years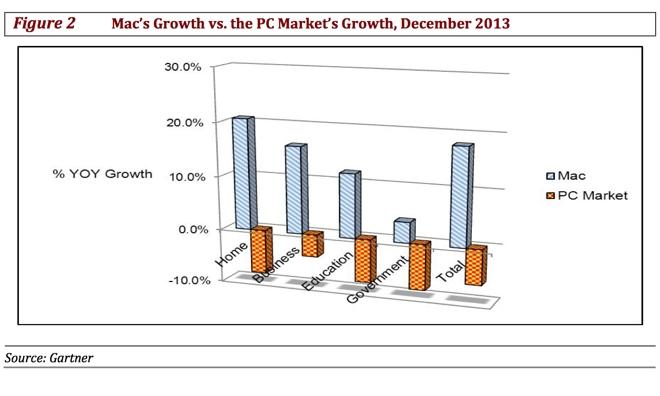 AppleInsider may earn an affiliate commission on purchases made through links on our site.
While some pundits speculate that Mac lineup could be on the way out in favor of the iPad, Apple's traditional notebooks and desktops outpaced the overall PC market by nearly 25 percent last quarter, representing the largest margin separating the two in five years.
Apple's successful holiday quarter was highlighted this week by analyst Charlie Wolf with Needham & Company, who questioned whether the strong performance by the Mac is "a one-quarter blip" amidst a sinking PC market.
Mac shipments grew 18.1 percent in the December 2013 quarter, which outpaced the overall PC market by 24.7 percent. The year over year increase in Mac sales was a reversal for Apple, which has not been immune to consumer adoption of touchscreen tablets such as the iPad.
Overall PC shipments, which are dominated by Windows machines, have been shrinking year over year for the last seven quarters. Apple has also seen its Mac shipments decline in some quarters, but the company has still gained market share vs. Windows PCs in all quarters since 2005 but one.
The Mac's unit share of the worldwide PC market has grown from 2.1 percent in 2005 to 5.5 percent in 2013. Apple's revenue share growth has been even greater, surging from 3.2 percent to 10.4 percent.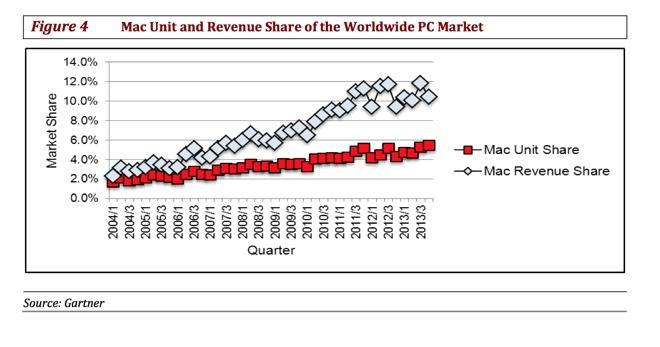 As for Apple's particularly strong growth in the December quarter, where it posted sales of 4.8 million units, that was aided by a favorable year-over-year comparison: In the same period in 2012, Apple faced a severe shortage of its redesigned iMac, which limited Mac shipments in the quarter. That ended up being the lone quarter where PC shipments outgrew the Mac.
"The question we don't have an answer to is whether Mac shipment growth can overcome the headwinds of negative growth in PC shipments," Wolf wrote. "While the Mac represents a small fraction of Apple's revenues, it nonetheless is an important barometer of the health of Apple's ecosystem."
Wolf believes that tablets have "undoubtedly" cut into PC sales, though he questions the "magnitude of this effect" so far. He suggested that sales of the iPad might adversely affect Mac sales more than traditional Windows PCs.
"Shoppers at the Apple Stores most likely consider both a MacBook and an iPad for their next purchase," he said. "The allure of an iPad is undoubtedly far greater when it is in close proximity to a MacBook than it is in other shopping venues."
In a separate note issued earlier this month, Wolf detailed how Apple has held the Mac's average selling price steady at $1,300, even as overall PC prices have trended downward with the popularity of netbooks, and later tablets. The steady pricing helps to explain how Apple's dollar share of the PC market has outgrown its market share over the last decade.