Apple's average Mac selling price steady at $1300 as iPad eats away at PC sales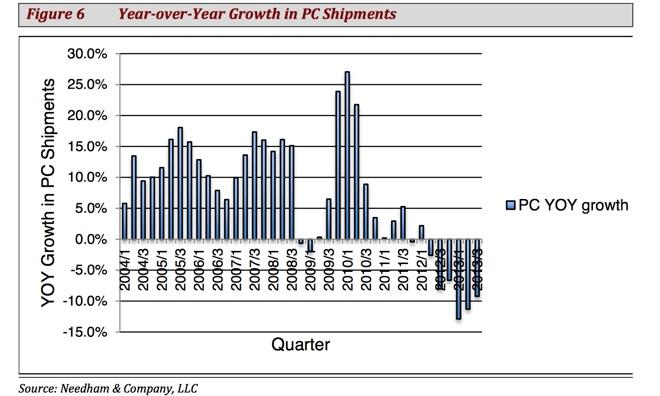 AppleInsider is supported by its audience and may earn commission as an Amazon Associate and affiliate partner on qualifying purchases. These affiliate partnerships do not influence our editorial content.
As PC sales continue to decline at the hands of tablets like Apple's iPad, the Mac platform is quietly growing its install base while maintaining an average selling price well above the rest of the market.
Analyst Charlie Wolf with Needham & Company noted that the average annual price of devices in Apple's Mac lineup has remained "relatively constant at around $1,300." The analyst had previously projected that Mac sales would decline as lower-cost devices like the iPad grow in popularity, but that hasn't been the case.
Even with the average price holding steady, Apple continues to gain PC market share at the cost of Windows devices. In fact, Mac sales have exceeded PC growth and gained overall marketshare in 30 of the last 31 quarters.
The lone blemish came in what Wolf called an "astonishingly" poor quarter last January, when Apple's streak of 26 consecutive periods outpacing the overall PC market came to an end. Since then, however, Apple's Mac lineup has again chipped away at the dominance of Windows.
Those gains have not always come as a result of growth — Â in some recent quarters, Mac sales simply haven't declined as much as the overall PC market, resulting in Apple still making gains. Both Windows and Mac sales have been affected by the rise in popularity of tablets, most notably Apple's iPad.
But the Mac platform returned to growth in the holiday 2013 quarter, reaching 4.8 million units. That was up from 4.1 million units during the same period in late 2012, and also exceeded market expectations of 4.6 million Mac sales.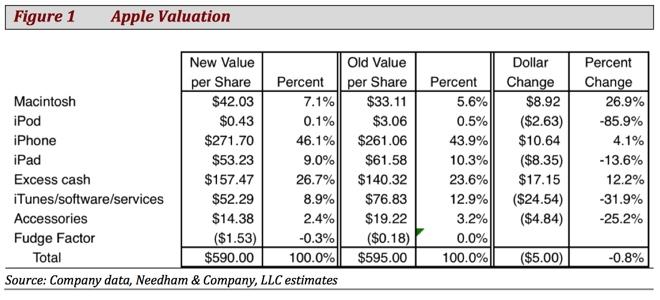 As a result of the Mac's recent performance, Wolf adjusted his valuation of Apple shares on Monday, giving the company's traditional computer lineup a greater share of his estimated stock price. Wolf's latest estimates gave the Mac a 26.9 percent increase to $42.03 worth of a projected $590 share price.
His estimates peg Apple's more profitable iPhone at a $271.70 per share value, while the iPad has a value of $53.23. The company's excess cash is valued at $157.47 per share, while its iTunes content businesses are assigned $52.29.
Wolf's new price target is down slightly from his previous projection of $595. Wolf has a different approach to than his colleagues, as he will only re-evaluate a company's price target twice per year, with the last update arriving in August.