Apple officially appeals e-books antitrust ruling, asks for dismissal or retrial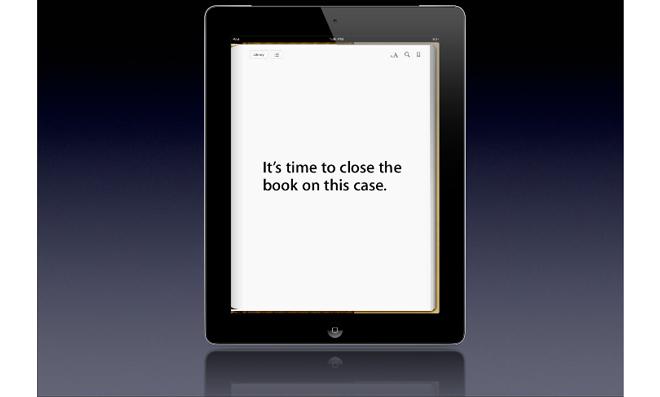 Apple on Tuesday filed an appeal over a U.S. district court ruling that found the company responsible for e-book price-fixing, requesting a reversal of the decision or, barring that, a new trial in front of a new judge.
As seen in the appellate opening brief filed with the U.S. Court of Appeals for the Second Circuit, Apple is looking to overturn District Court Judge Denise Cote's July 2013 ruling, which found the company culpable for colluding with five major book publishers to falsely inflate the cost of e-books sold through the iBookstore. The antitrust case was leveled by the Department of Justice in an amended complaint over two years ago.
A brief introductory statement inserts a few fresh arguments into Apple's case against, while rehashing older claims that the iBookstore and iPad created, not stifled, competition in the e-book space.
The district court's ruling that Apple, in the very act of launching the iPad, inventing the iBooks Store, and entering the e-books market, violated the Sherman Act is a radical departure from modern antitrust law and policy. If allowed to stand, the ruling will stifle innovation, chill competition, and harm consumers.
Apple goes on to point out Amazon's dominant position in the market, which at the time of the iBookstore's launch accounted for nine out of every ten e-book sales. Counsel previously argued these statistics in front of Judge Cote last year.
The brief clarified that the district court's decision "did not find that 'Apple itself desired higher e-book prices than those offered at Amazon.'" (emphasis in original) Instead, the court found the iPad to have "encouraged innovation and competition."
Apple argues that Judge Cote "repeatedly" applied incorrect legal standards when considering her decision, which consequently led to a "false conclusion of a price-fixing conspiracy."
The document gives a rundown of the U.S. v. Apple antitrust proceedings, including a section on the hotly contested pricing models used by Apple and, as a comparison provided by the DOJ, Amazon.
Amazon employed a so-called "wholesale model" in its e-book sales. Under the scheme, retailers buy content from publishers in bulk and set resale prices at or below cost to move units. According to in-court testimony, the strategy sometimes brought massive discounts to new e-book titles that would otherwise have sold for much more.
Amazon allegedly used the wholesale model to sell its Kindle e-reader, which controlled as much as 90 percent of the market by 2009.
When Apple entered the market, it used an "agency model." The agency model is based on a "most favored nations" clause that disallows content owners to sell their wares to another retailer for a lower price.
Apple's agency model contracts were central to the DOJ's case. The government argued that Amazon's wholesale model was negatively impacted as a result of Apple's deals, which ultimately trickled down to consumers as the Internet retail giant was no longer able to compete on price.
As part of Judge Cote's ruling, Apple was saddled with an injunction barring the company from entering into any unsavory deals with publishers. Antitrust watchdog Michael Bromwich was also assigned to keep an eye on Apple. Bromwich and Apple have butted heads since he was installed last October.