Volvo shows off Apple CarPlay integration set for 2014 vehicles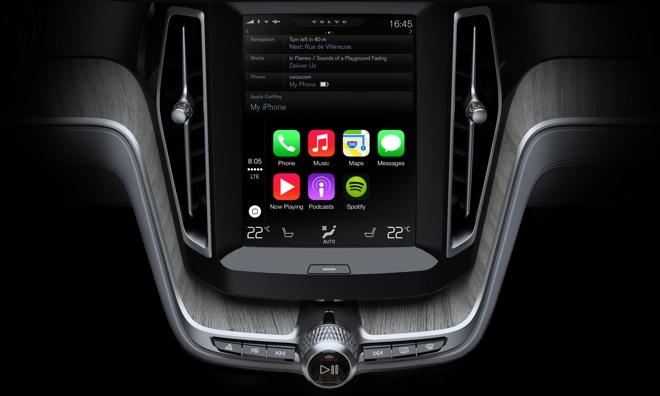 With the wraps officially taken off of CarPlay on Monday, Volvo has showcased how it will implement Apple's in-car infotainment system in its coming generation of vehicles, including the all-new XC90 SUV set to debut this year, and has also promised that Wi-Fi support for CarPlay integration is coming in the future.
A video released by Volvo on Monday shows how Apple's iOS-based CarPlay will be integrated into Volvo's own in-car user interface. The demonstration includes a total of seven applications: Phone, Music, Maps, Messages, Now Playing, Podcasts and Spotify.
Volvo's solution is a touchscreen-based interface that also allows users to control features of the vehicle such as temperature. The video boasts that CarPlay will provide iOS users with a familiar environment without being distracting to drivers.
Apple CarPlay will be available in forthcoming Volvo models based on the company's new Scalable Product Architecture, starting with the XC90.
Volvo is among the first companies to support Apple's CarPlay, joining Mercedes-Benz and Ferrari.CarPlay integration will initially require a Lightning cable, though Volvo revealed that Wi-Fi support is "coming in the near future." The connection is based on a streaming H.264 video feed that returns user input from the touchscreen.
"iPhone users will feel completely at home in a new Volvo. We have created a wholly-integrated user experience in our large portrait-oriented touch screen that takes the in-car mobile device experience to a new level," said says HÃ¥kan Samuelsson, president and CEO of the Volvo Car Group. "That, coupled with the obvious driver safety benefits of an advanced voice control system like Siri, made Apple a perfect match for Volvo."
CarPlay was officially announced by Apple earlier Monday, rebranding the company's "iOS in the Car" initiative unveiled with iOS 7 last year. The system will integrate both the touch and voice controls of iOS with a car's infotainment system.
Volvo will be one of the first companies to release vehicles with CarPlay, along with Mercedes-Benz and Ferrari. Other announced partners include BMW, Ford, General Motors, Honda, Hyundai, Jaguar, Land Rover, Kia, Mitsubishi, Nissan, PSA Peugeot Citroen, Subaru, Suzuki, and Toyota have also pledged support.