Rumor: Apple to launch lower-capacity 8GB iPhone 5c this week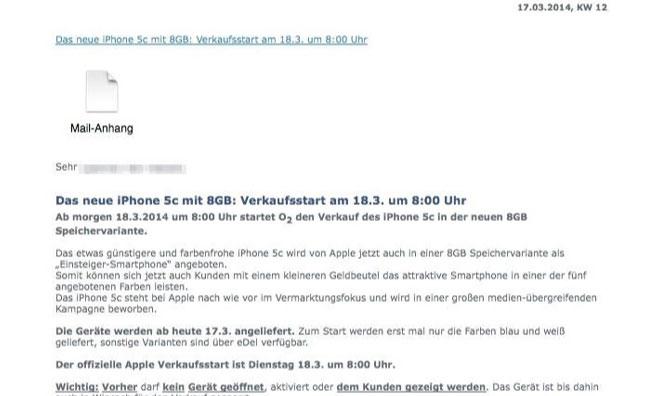 AppleInsider may earn an affiliate commission on purchases made through links on our site.
Apple is said to be planning the introduction of a new, 8-gigabyte variant of the iPhone 5c — possibly as soon as this week — in what could be a bid to turn around flagging sales of the plastic-backed device.
News of the change first appeared in a purported internal email from German wireless carrier o2, which will list the handset for sale at €509 ($707), €60 under the current €569 ($791) cost of the 16-gigabyte model. The communique was obtained by German blog stadt-bremerhaven.de.
There is no word on what affect such an introduction would have on the availability of the iPhone 4s, which is currently the only iPhone available in an 8-gigabyte capacity and is often given away for free when consumers subscribe to a two-year service plan with a wireless carrier. Apple also sells an 8-gigabyte version of the older iPhone 4 in developing markets like China and India.
A move to replace the iPhone 4s and iPhone 4 could make sense, as those devices still use Apple's older dock connector technology and sport smaller, 3.5-inch displays rather than the 4-inch display introduced with the iPhone 5. Dropping the iPhone 4s from the international lineup would put all current-generation iPhones on a common platform as the company gears up to introduce the so-called iPhone 6, which is rumored to ship with a larger display.
Sales of the iPhone 5c have reportedly fallen short of Apple's internal estimates as consumers opt for the marginally more expensive iPhone 5s. Apple CEO Tim Cook admitted that demand for the iPhone 5c "turned out to be different than we thought" during the company's last quarterly earnings call.