Apple named most valuable 'billion dollar brand' in US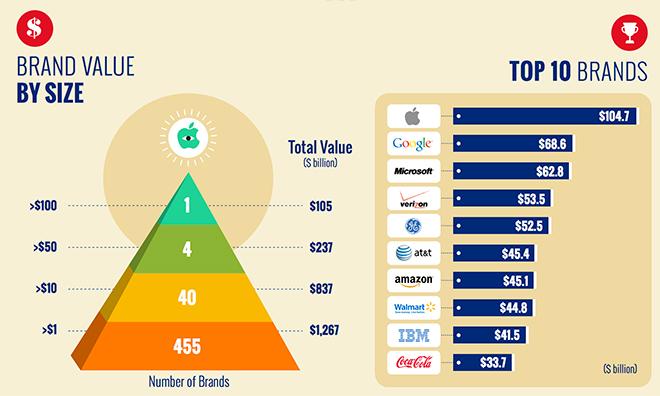 According to a report released on Tuesday, Apple is the most valuable billion-dollar U.S. brand name, topping a list of 500 firms including branding heavyweights like Google, Microsoft, Coca-Cola and McDonalds.
In brand consulting agency Brand Finance's "Billion Dollar Brands" list, Apple's brand is worth $104.6 billion, putting it comfortably ahead of runner-up Google's $68.6 billion valuation, reports the Silicon Valley Business Journal.
As noted by the publication, Brand Finance compiled the list by estimating the royalty rate that would be charged to use a company's brand and combining the result with expected future revenue.
Overall, tech companies took five of the top ten spots, with Microsoft coming in third, GE in fifth and Amazon.com in seventh. The tech sector dominated the list and accounted for 23 percent of the total.
Silicon Valley in particular is home to seven of the top 50 companies, including Intel, Cisco, Oracle, Hewlett-Packard, eBay, Facebook, PayPal and Yahoo. California came out as the No. 1 state by brand value with its companies generating a total of $484 billion.