Burger King to take e-wallet purchasing nationwide with new mobile app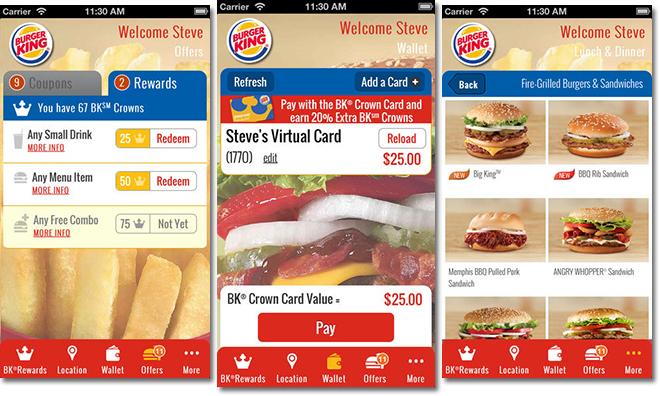 Fast food giant Burger King will roll out a mobile app in April that will let users pay for food at more than 7,000 locations in the U.S., expanding on the company's BK Crown Card program already available on Apple's iOS.
The nation's second-largest burger chain by store count revealed details of the upcoming program on Wednesday in an email supplied to Bloomberg. According to the note, the plan will expand the company's e-wallet style payment service to 7,000 stores in "a few months."
From the company's description, it appears that the new system will take cues from the Burger King iOS app, which includes the BK Crown Card payment system.
Currently, the virtual wallet acts as a loyalty and payments card by incorporating a customer rewards system that dishes out coupons and other savings whenever a user recharges with a credit card. As noted in the app's release notes, functionality is limited to Sacramento, Reno, Baltimore and New York City.
Also available in the existing iOS app are nutrition facts and an interactive map showing nearby Burger King locations.
One new feature that may be added at a later date is an option to order ahead of time for later pickup. Jamba Juice offers a similar service in Jamba Curbside pickup, though customers must call in orders instead of using an app.
Burger King is the latest company to offer in-store purchases via app. It is unclear if Burger King will integrate the e-wallet functionality with Apple's Passbook like other solutions created by Starbucks and the Apple Store.