In China, new iOS product launches drive older device sales, expand Apple's customer base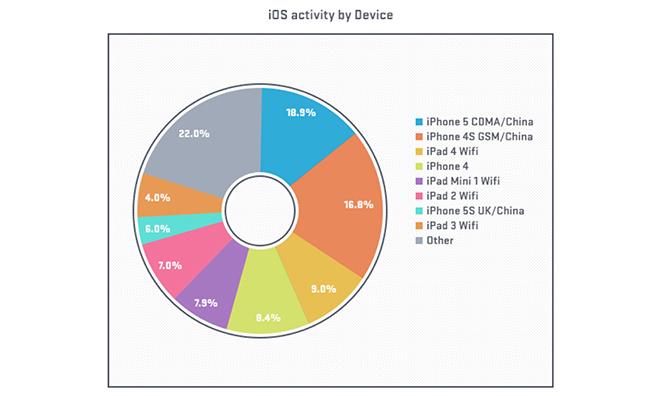 In most countries, when Apple releases a new iPhone model the handset quickly becomes a hot-seller as older models fall by the wayside. The opposite is true in China, according to fresh data from research firm Mixpanel.
Taking a micro-level look at the Chinese wireless market, specifically as it pertains to iOS devices, Mixpanel discovered that the buzz around an Apple product release is more important than the product itself.
The firm points to Apple's recent iPhone 5s and 5c debut as an example. In major markets outside of China, especially the U.S. and Europe, customers flocked to stores to pick up the latest and greatest handset (with sales largely skewed toward the 5s). In December, some three months after the iPhone 5s hit store shelves, one report found Apple's premium offering was the best-selling smartphone on the "big-four" U.S. carriers through November.
Compare that to the current list of top iOS devices used in China, which shows the last-generation iPhone 5 sitting on top with a 19-percent share of all iOS traffic Mixpanel monitored in the country. Despite a marketing blitz by China Mobile for the newest iPhone 5s and 5c, the spike in usage went to models like the iPhone 4S and first-gen iPad mini.
Specifically, when Apple released the latest iPhone lineup in September there was a definite uptick in Chinese iOS data, though the jump was attributed to the iPhone 5, not the 5s or 5c. Similarly, China Mobile's iPhone launch in January drove growth, but again consumers went mostly for older models.
The simple explanation is price, Mixpanel says. When Apple debuts a new product, last-generation devices get an instant price drop, making them more attractive to first-time buyers or those in the market for a mid-tier handset.
Diving deeper into the data, Mixpanel segmented iOS activity by city and region, as seen above. For the most part, the findings are not surprising, with most activity logged from more affluent cities along China's eastern coast.
The concentration of data in major metropolitan cities is most likely a direct correlation to income, but Mixpanel proposes China Mobile's 4G network rollout could also play a factor in the iOS adoption. The carrier's TD-LTE technology is somewhat rare, though the latest iPhone 5s and 5c models offer support for the network's bands.
Breaking down the data by region, Guangdong shows one of the highest concentrations of iOS device users in China. Likely a factor in the area's iOS adoption are Guangzhou and Shenzhen, both cities made prosperous from manufacturing industry operations.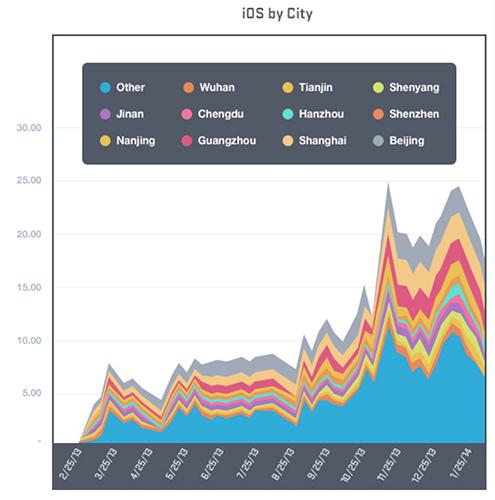 Notably, Apple manufacturing partner Foxconn has a strong presence in the region with factories in Shenzhen which boast some 500,000 workers, many of whom live on site. Mixpanel was unable to parse IP data to find whether the uptick in iOS usage originated from within Foxconn's plants, but says, "It seems safe to assume that Foxconn's presence can only serve to raise awareness of Apple and its latest offerings within Shenzhen as a whole."
Mixpanel's findings shine a light on the health of Apple's iOS ecosystem in China, a region representing the most important near-term growth potential for the company. While the country lags other markets in new device adoption, the fact that Apple's product launches drive sales is an obvious positive; the company's customer base in China is growing.
As China Mobile grows its 4G network beyond large cities, consumers may start turning to the sales model seen in already saturated smartphone markets like the U.S. At this point, any prediction as to what the Chinese holds for Apple is speculation, though the next iPhone launch should at least offer a clearer picture as to where the country is headed.