Apple's new privacy counsel hire hints at unannounced health program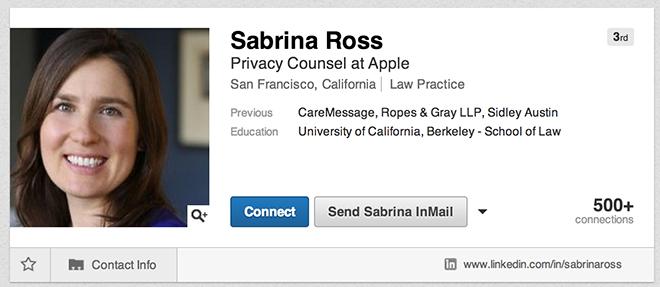 A new Apple hire discovered on Monday may offer insight into the company's rumored push into health monitoring, which could integrate data from the much-rumored "iWatch" with the company's iCloud service.
As of March, Sabrina Ross has been working at Apple as the company's new privacy counsel, a position that oversees the protection of sensitive customer data, among other responsibilities.
Ross holds certified privacy professional (CIPP/US) credentials from the International Association of Privacy Professionals. CIPP/US is a relatively new program that launched in the U.S. in 2004 to cover issues pertaining to privacy regulations in a wide variety of fields, including federal and state regulations, healthcare and the Internet.
What makes Ross an interesting addition to Apple's team is her background in the healthcare field. Prior to Apple, Ross sat on the board of directors of CareMessage, a non-profit organization focused on improving "health literacy and disease self-management" for underserved patients.
From Ross' LinkedIn profile:
A certified privacy professional, CIPP/US, I have experience with a wide-range of Internet and information law matters involving privacy and data protection, online brand protection, electronic surveillance, defamation, information security, cloud computing, social media, locational privacy, e-commerce, and national security. I am passionate about addressing these issues with both business acumen and an eye towards litigation strategy.
My practice includes developing privacy compliance systems, creating privacy/data security training and policies, conducting risk analysis in the merger/acquisition context, and providing compliance counseling regarding the state/federal/international privacy law landscape.
Looking at her past work experience, Ross has extensive experience in social media regulations and privacy by design systems. Contrasted with Apple's social media presence, which can be described as minimal, the specialized skill set raises questions as to what Ross will be working on at the company.
While mere speculation, Apple could be readying a more assertive push into social. The company has become increasingly open to new advertising outlets, as seen in a recent iPhone 5c campaign on Yahoo and NTTimes.com.
A further stretch involves Ross' background in privacy as applied to health, social media and cloud computing. Apple is rumored to be developing an iOS health monitoring system that may be tied to a wearable device many have taken to calling the "iWatch." Ross could play a role in the forming new policies applicable to gathering and storing personal health information in iCloud and sharing said data via social media.
If Apple does indeed release a health monitoring app and decides to aggregate data in the cloud, the system would no doubt raise privacy concerns, especially with iOS' vast installed user base. Privacy best practices and other policies would need to be implemented before such a product rolled out.