Apple once again rumored to launch MacBook Air with Retina display this year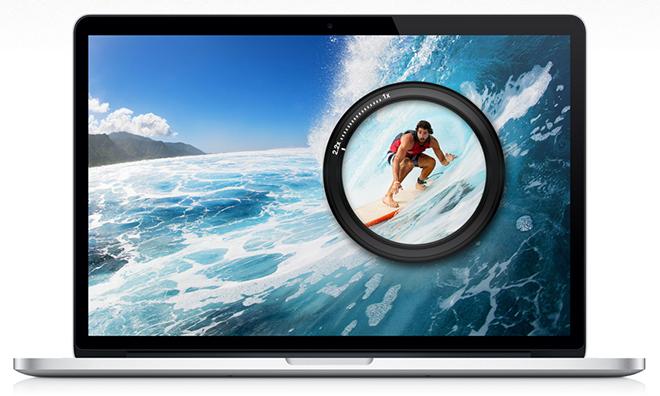 AppleInsider may earn an affiliate commission on purchases made through links on our site.
The latest supply chain rumors add to claims that Apple is planning to launch a new MacBook Air with a high-resolution Retina display later this year, bringing the same pixel-packing power already found in the company's MacBook Pro lineup.
The latest claims come from the usual Taiwan-based supply chain sources at DigiTimes, which chimed in once again this week with expectations that Apple will launch a MacBook Air with Retina display in the second half of 2014. It should be noted that the publication is notorious for being the source of numerous Apple-related rumors, many of which turn out to be incorrect.
The report comes on the heels of a separate rumor that suggested Apple is planning to launch a 12-inch fan-less MacBook with a 12-inch Retina display. Given that the current MacBook Air models sport screen sizes of 11.6 and 13.3 inches, it's possible that this new, ultrathin model could be a successor to both, simplifying the MacBook Air lineup with a single Retina display model.
Rumors of a new MacBook with a 12-inch Retina display continue to pick up steam.
Apple took a similar approach in 2012, when the company opted to discontinue its 17-inch MacBook Pro. That model was replaced by a 15.4-inch MacBook Pro with Retina display, and Apple eventually expanded its "Retina Pro" notebook lineup with a 13-inch model a few months later.
When the new premium-priced Retina display models were introduced, Apple also continued selling its legacy non-Retina models at more affordable price points. If Apple were to employ the same tactic for its MacBook Air lineup, it could offer a 12-inch Retina display model, along with non-Retina 11- and 13-inch models.
Word of a radically redesigned 12-inch MacBook with Retina display was first revealed by well-connected insider Ming-Chi Kuo of KGI Securities last October. He said the new model is expected to sport an "ultra-slim clamshell form factor," which will offer a marriage between the portability of the 11-inch MacBook Air and the greater productivity offered by the 13-inch model.
According to Kuo, the new MacBook is expected to "redefine laptop computing once again following the milestone created by the MacBook Air."
In addition, this week's latest DigiTimes report also claimed once again that Apple is planning to launch a new jumbo-sized 12-inch iPad later this year. This information is viewed as more suspect, as Kuo signaled in February that Apple is unlikely to launch a larger, still-in-development iPad this year.
And DigiTimes itself even claimed that Apple had halted development of its so-called "iPad Pro" earlier this month, reporting that the company felt there was a "lack of support from related platform developers and ecosystems" for a larger tablet. That report was from just 12 days ago, meaning the publication's supply chain sources have contradicted one another in a span of less than two weeks.