Apple unlikely to launch 12.9" iPad or third-gen iPad mini in 2014, iPad Air to gain A8 & Touch ID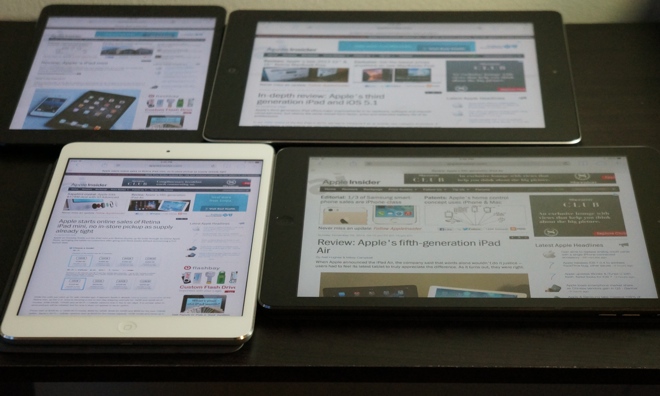 The iPad Air may be the only model in Apple's tablet lineup to receive a refresh this year, with an allegedly still-in-development 12.9-inch model unlikely to launch, and even a successor to the iPad mini with Retina display in doubt, according to one well-connected insider.
Analyst Ming-Chi Kuo of KGI Securities issued a report Saturday evening obtained by AppleInsider, in which he predicted that overall iPad shipments will actually decline this year. That's because he expects that the iPad Air will be the only iPad model to see a refresh in 2014, gaining a next-generation A8 processor and Touch ID fingerprint sensor late in the third quarter of the year.
According to Kuo, development of the next iPad Air and a new 12.9-inch iPad will be the main focus for Apple in the tablet market this year. As such, progress on a new iPad mini will be affected, he believes.
As a result, Kuo said that the chances of a new iPad mini model in the second half of 2014 are "slim." He also doesn't expect that development on a new, larger 12.9-inch mode, sometimes referred to as an "iPad Pro," will be completed in time for a launch this year, leaving just an iPad Air with A8 CPU and Touch ID as the company's refreshed tablet.
Regarding the rumored 12.9-inch iPad, Kuo said he expects it to be a growth driver for the company, and will require a revised operating system to take advantage of the larger display. Apple's current iPad lineup tops out with a 9.7-inch screen on the iPad Air.
According to Kuo, Apple has placed its priorities on finishing the operating system for its anticipated "iWatch," which he says will launch this year. As a result, he doesn't expect that Apple will be able to finish the software for a larger "iPad Pro" by the end of 2014.
"Even if it (a larger iPad) does make an appearance this year, shipments will be low," he wrote.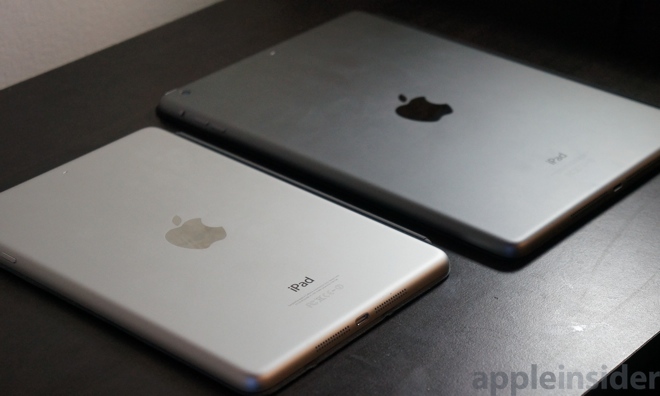 Kuo has a strong track record with respect to predicting Apple's future product plans, having correctly predicted most of the company's 2013 product releases months before anyone else. He also revealed the company's entire fall 2012 lineup a year prior.
He predicts that total iPad shipments will fall from 34 million units in the first half of 2013 to below 30 million units in the first half of 2014. Without a new iPad mini or 12.9-inch iPad, he predicts that iPad shipments will decline this year, "unless more aggressive promotions are launched."
His forecast calls for iPad Air shipments to drop between 30 and 40 percent sequentially in the first quarter of calendar 2014, which runs through the end of March, which he referred to as a "slow season."
Kuo also claims that shipments of the new iPad mini with Retina display have been "weak" since that product debuted in the fourth quarter of calendar 2013. Apple's second-generation iPad mini is said to not have seen as strong of a debut as the first-generation model, which launched in late 2012 and was Apple's first tablet with a 7.9-inch display.