Apple supply chain rumors: 'iPad Pro' on hold, sapphire production limited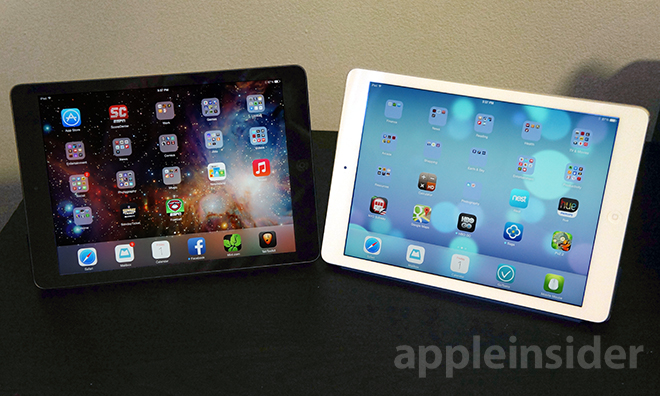 A pair of fresh rumors from Taiwan claim that Apple's 2014 product line is far from settled, as the company is alleged to have shelved plans for a larger-screened iPad and is purportedly facing supply issues at its new Arizona sapphire plant.
The iPad Air is currently Apple's largest tablet with a 9.7-inch display.
The long-rumored "iPad Pro" — a larger version of the iPad that would have shipped with a 12.9-inch display and been released this fall — is now unlikely to see the light of day, according to Digitimes. The publication cited "lack of support from related platform developers and ecosystems" as a stumbling block for jumbo-sized tablets, with some models from Apple competitor Samsung already on shelves.
Large tablets present an inferior value proposition to low-cost notebooks, Digitimes argues, and suffer from the poor quality of enterprise applications available on Google's Android platform.
There was no word on whether the product has been killed altogether or simply delayed, and some industry watchers believe Apple still intends to release such a device. Well-connected analyst Ming-Chi Kuo of KGI Securities indicated as much in a report last month, writing that development of the tablet is underway but will not be completed in time for a 2014 launch.
"Even if it (a larger iPad) does make an appearance this year, shipments will be low," he wrote at the time.
Additionally, Digitimes believes the yield from Apple's new $578 million Arizona sapphire plant will be too low to sustain production of a new sapphire-covered iPhone, possibly imperiling plans for that device. Assuming the so-called "iPhone 6" ships with a 5-inch display, the website calculates that the Arizona facility's output would cover less than 12 million devices in its first year.
Those numbers differ significantly from a February report by analyst Matt Margolis, who believes the plant could produce between 100 million and 200 million such display covers per year. Apple shipped 154 million iPhones in 2013.
There is no word on how Digitimes reached their estimate, or what Apple would do to make up for the shortfall. Margolis studied customs records that detail the number of sapphire furnaces brought to the Arizona facility by Apple partner GT Advanced Technologies.