Apple nabs senior RF engineers from Broadcom amid rumors of new in-house baseband team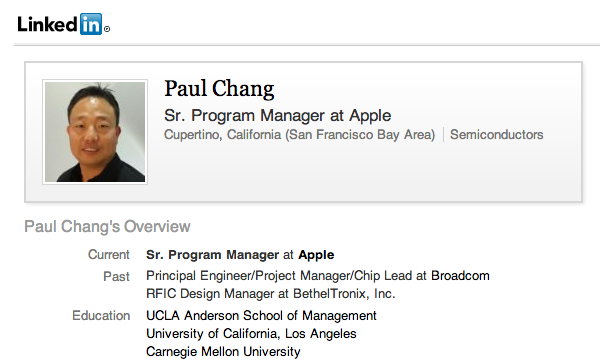 At least two high-level baseband hardware engineers have left wireless semiconductor company Broadcom for new positions at Apple this year, adding weight to speculation that the iPhone maker is planning to design and build its own baseband processors.
Former Broadcom principal engineer Paul Chang joined Apple as a senior program manager in February after more than 11 years at the chipmaker, AppleInsider has learned. While at Broadcom, Chang was RF hardware lead for the development of baseband transceivers that made their way into mobile devices from both Nokia and Samsung.
Chang has extensive experience "working as the RF chip lead on complex mobile communications product development projects that generated multi-billion dollar revenue and involved hundreds of people from cross functional teams." He played a large role in spinning up Broadcom's mobile communications CMOS business unit, driving product development "from the inception to delivery to customers."
He holds a bachelor's degree in electrical engineering from Carnegie Mellon, a master's in the same field from UCLA, and an MBA from UCLA's Anderson School of Management, while his name appears on at least three Broadcom patents covering integrated circuit manufacturing methods. An update to Chang's LinkedIn profile confirmed the new position at Apple.
Another longtime Broadcom engineer, Xiping Wang, joined Apple in January after serving over 10 years as a design engineer and hardware development manager with Broadcom. Wang began his career as an RF engineer at Motorola after attending UC Davis.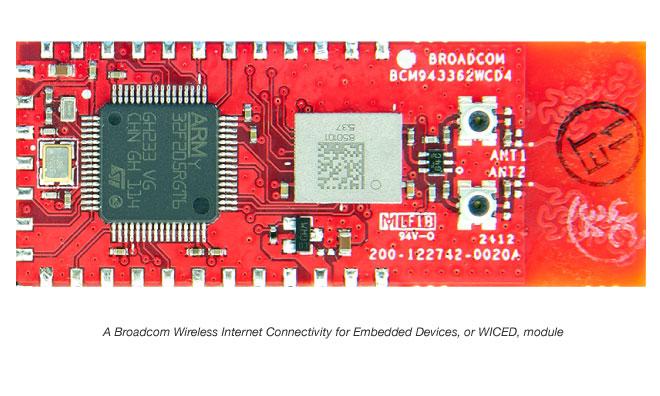 All together, Apple has assembled at least 30 mid- and senior-level baseband software and hardware engineers from Broadcom and current iPhone baseband vendor Qualcomm over the past three years. Apple is also advertising more than 50 additional openings related to RF chip design, an indication that the build-up is not yet complete.
Discovery of the hires comes just two days after rumors began circulating that Apple was planning to move its baseband processor design in-house.
The baseband chip acts as the "brain" of a handset's wireless modem. Working in concert with a transceiver, which controls the sending and receiving of wireless signals through the antenna, the baseband processor is what allows a device to communicate over cellular networks.
Building baseband components is an exceptionally complex process that is notoriously difficult to perfect. Until Intel's introduction of its XMM 7160 last October, only one company — Qualcomm, whose MDM9615M is inside Apple's iPhone and iPad — had managed to create a baseband processor that integrated support for LTE, 3G, and EDGE networks inside a single package.

Unlike Apple's recent success with its A-series application processors, there has been no known large-scale acquisition to bolster a possible in-house baseband team. The company picked up semiconductor firms P.A. Semi and Intrinsity for a combined $399 million to support the A-series effort.
The move would, however, fit in with Apple's recent push to exert more control over the components that power its most important products. Apple inked a $578 million deal to open a dedicated sapphire factory in Arizona late last year, and has reportedly bid at least $479 million for controlling interest in Renesas SP Drivers, the exclusive provider of LCD drivers for the iPhone.