Samsung email targeted Steve Jobs' death as "our best opportunity to attack iPhone"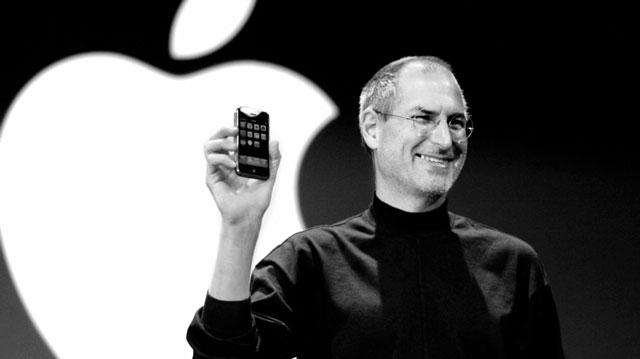 Samsung executives discussed Steve Jobs' passing as "unfortunately" having an "unintended benefit for Apple," and at the same time, "our best opportunity to attack iPhone," in internal memos marked "highly confidential," presented in the Apple v. Samsung trial.
On October 4, 2011, Apple's chief executive Tim Cook announced the new iPhone 4S, which was scheduled to go on sale October 14. Apple began taking preorders a week earlier on October 10. The announcement also included new details on iOS 5 and revealed the new Siri.
That same day, executives from Samsung Telecommunications America engaged in a discussion about the new iOS 5 and iPhone 4S, referencing a feature checklist comparison by Fierce Wireless that contrasted Samsung's own Galaxy S II and Motorola's Droid Bionic, both running Android 2.3; the BlackBerry Bold running BlackBerry OS 7; and HTC Titan running Windows Phone 7.5.
Michael Pennington, then Samsung's vice president of sales operations and head of national sales for its STA, suggested that Samsung should "use Google to attack Apple" in a marking campaign as a way to "avoid attacking Apple due to their status as a large customer."
The next afternoon, Jobs passed away on October 5, 2011. Apple and his family announced his death shortly afterward.
"The point here is the there is an unintended benefit for Apple"
On October 7, the day preorders for iPhone 4S started, Pennington replied to the previous iPhone 4S discussion, noting that "Google's core strength, Search Engine, can be radially minimized by Apple's new iPhone 4S implementation of Siri," describing the situation as "Google's 'Burning Platform' issue," an allusion to Nokia's similarly titled internal memo from the beginning of 2011.
"Unfortunately," Pennington then wrote, "Steve Job's [sic] passing has led to a huge wave of press coverage of Apple's and iPhone's 'superiority,' all created by the, 'passionate, tireless, perfectionist...'"I know this is our best opportunity to attack iPhone" - Michael Pennington, Samsung
"The point here is the there is an unintended benefit for Apple, since the external messages by 3rd parties are all highlighting and/or supporting the consumer perception that Apple products are superior, since Jobs' was such a visionary and perfectionist. What consumer wouldn't feel great about purchasing a device developed by such a person."
"Sorry to continue to push this issue, but I have seen this far too long and I know this is our best opportunity to attack iPhone," Pennington wrote.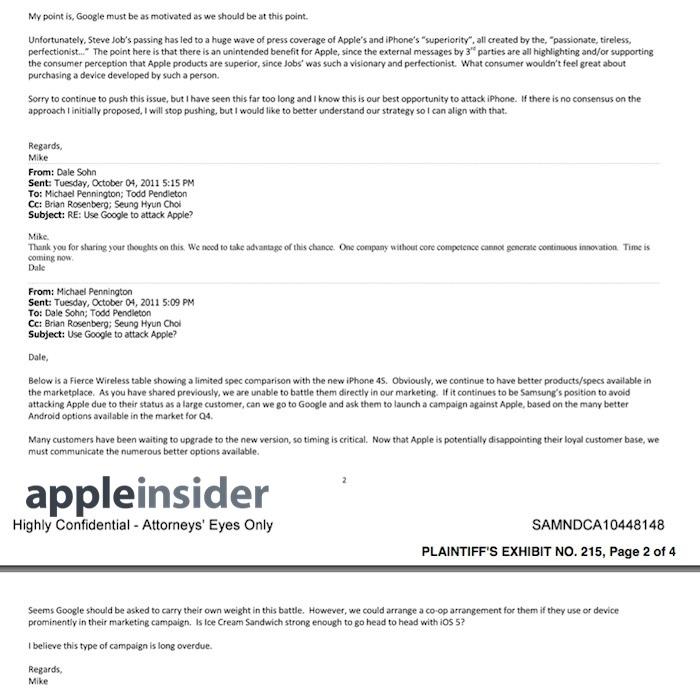 Pennington's email was in response to a note from Samsung's chief marketing officer in the STA Todd Pendleton, who said, "Hey Michael, we are going to execute what you are recommending in our holiday GSII campaign and go head to head with iPhone 4S.
"We are working on a very aggressive strategy touting our advantages in hardware and software. In the process we will demystify the perceived Apple advantage (ecosystem/services) by showing how consumers can easily switch to Android and have more personalization/more choice by being part of the Samsung ecosystem. More to come soon... Best TP"
Apple announced the following Monday that iPhone 4S had racked up more than one million preorders over its first weekend.
The conglomerate strikes back
Samsung's response included a Facebook page that compared its Galaxy S II, styled to look identical with Apple's iPhone, as "new school" versus Apple's iPhone 4, an early 1990s cellular phone and two cans on a string.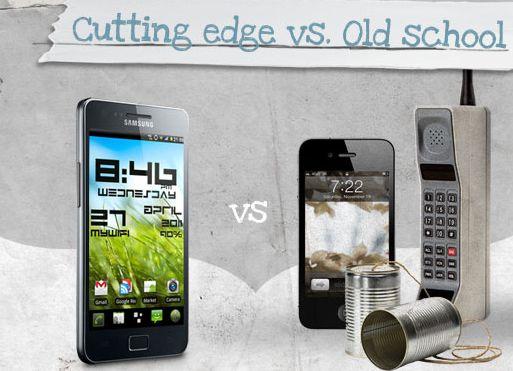 "To be fair," wrote Cody Lee, for the iDownload Blog, "the iPhone 4S supports AT&T's HSPA+ network, as does the carrier's version of the Samsung's Galaxy S II. All of the other features line up pretty evenly as well, from the dual core processors, to the 8MP cameras. So the 1980′s cell phone is a bit of a stretch."
The company also orchestrated "Global PR Reviews to increase Buzz," resulting in glowing reviews for the Galaxy S II from a series of high profile blogs (below), which the company touted in an internal marketing document.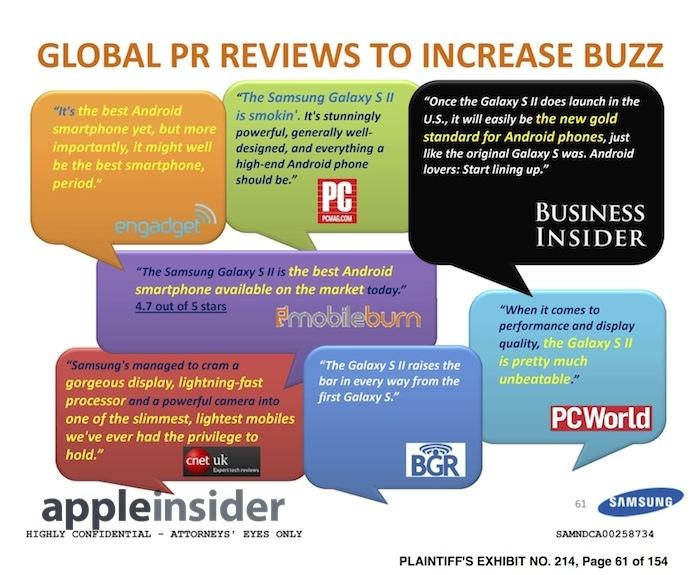 After iPhone 4S launch, Samsung predicts an "iPhone 5 tsunami"
NPD reported the following February that Samsung's S II was the fourth best selling smartphone in the U.S., after Apple's iPhone 4S, iPhone 4 and iPhone 3GS.
Pennington replied, "we need to quickly understand the exact reasons why we win customers away from iPhone," adding, "we should also quickly understand where we failed to win customers away from iPhone in our initial GS3 launch."
The next year, Sohn was replaced as STA president by Samsung's Global Marketing Operations chief Gregory Lee last summer. Sohn is now an advisor to Samsung Mobile chief executive JK Shin.
Pennington is among the "at least five" high ranking Samsung executives that have left the company over the past two months, according to a recent report by CNET.
Editor's Note: An earlier version of this article incorrectly stated Todd Pendleton's email was in response to correspondence from Michael Pennington, who alluded that media coverage of Apple cofounder Steve Jobs' death was an "unintended benefit" for the company.