Apple rumored to launch 4.7-inch 'iPhone 6' in August, larger model in September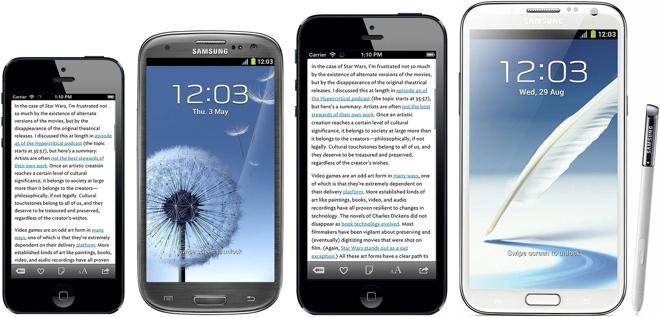 According to the latest rumblings out of the Far East, Apple is planning to debut the 4.7-inch version of its next-generation iPhone in August and may follow up with a larger model a month later.
Reuters on Friday pointed to a report from Taiwan's Economic Daily News that cited unnamed sources in Apple's supply chain as saying the hotly anticipated "iPhone 6" could be unveiled in August, one month earlier than the company's usual product cycle.
Light on details, the Taiwanese publication claims Apple will release the 4.7-inch version of its flagship handset before a larger 5.5-inch or 5.6-inch model debuts in September. Rumors of a 5.6-inch iPhone has been tossed out before — most recently in February by the same newspaper — though prevailing speculation points to a 5.5-inch screen size.
While initial market availability is unknown, sources expect Apple's partner suppliers to produce a total of 80 million iPhone 6 models by the end of 2014.
Friday's rumor adds to the near daily stream of supposed parts leaks, mockups and inside information regarding Apple's next iPhone. On Thursday, it was reported that Pegatron will be responsible for 15 percent of all 4.7-inch iPhone 6 orders, a change from Apple's usual reliance on Foxconn to build its premium tier handsets.
For 2014, Apple is widely expected to debut two new top-end iPhones with larger screens that appeal to a wider swath of consumers. Until today, most reports speculated that the smaller version of Apple's iPhone 6 would launch in September, while the larger iteration would see release months later due to issues related to display and battery yields.