Rumor: Apple working on 4.7", 5.6" iPhones for release in Q3 2014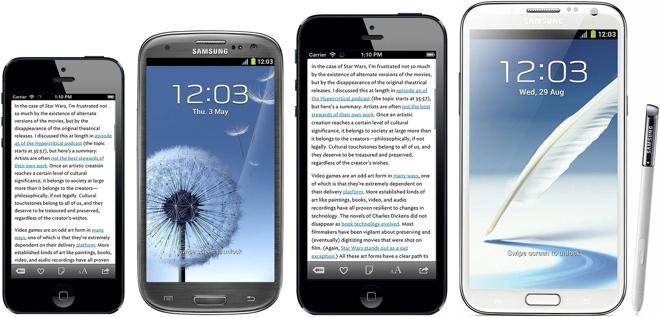 AppleInsider may earn an affiliate commission on purchases made through links on our site.
The latest sketchy report out of the Far East claims Apple is working on two jumbo-sized iPhone models this year, and even goes as far as to claim that executives at the company may not refer to a larger, more premium 5.6-inch model with the existing "iPhone" brand.
Mockup of iPhone with 4.94-inch screen, created by Marco Arment.
The alleged details were published this week by Taiwan's Economic Daily News, and highlighted by Macotakara. Some of the rumors align with previous claims, specifically that Apple is looking to use a sapphire glass cover for its next-generation "iPhone 6," though the latest report claims that those changes may be exclusively for the new 5.6-inch model.
The latest claims out of Taipei suggest that Apple's new 4.7-inch iPhone model will continue to sport Corning Gorilla Glass, like previous handsets from the company. But a new 5.6-inch device will have a sapphire glass screen, and will not be named an "iPhone," the report suggested.
While advanced reports on hardware specifications do sometimes prove accurate, branding of such devices is not the kind of information that makes its way down Apple's supply chain. As such, while Apple could be working on a 5.6-inch iOS-based device, exactly what it will be named is almost assuredly unknown by suppliers.
Wednesday's report claims that Apple's 5.6-inch "non-iPhone" is an "experimental" device that will feature sapphire glass from GT Advanced Technologies. Apple inked a $578 million deal with the supplier in late 2013.
It's claimed that Apple's so-called "iPhone 6" will be released in the third quarter of 2014. Availability of the new 5.6-inch device is expected to be limited because of its use of sapphire glass.
The claims are somewhat similar to another report that appeared a week ago, claiming Apple is working on "iPhone 6" models with display sizes of 5.5 inches and 4.7 inches. The South China Morning Post cited "industry insiders" who alleged to have seen "prototypes" of the upcoming devices, though that report claimed both handsets will feature scratch-resistant sapphire crystal glass.
Casting serious doubt upon that report, however, was a claim that the new handsets would feature a pixel density of 441 pixels-per-inch. That number is off by eight pixels, if Apple were to maintain the 16:9 screen aspect ratio currently found on the iPhone 5s, iPhone 5c and iPhone 5.
Apple's current flagship device, the iPhone 5s, sports a 4-inch screen packing in 326 pixels-per-inch into its Retina display. Prior to the iPhone 5, Apple's smartphones sported smaller 3.5-inch screens.
Multiple rumors have suggested that Apple is looking to yet again increase the size of the iPhone's display this year, following a market trend toward devices with larger screens. To date, the most credible rumors have pegged a new iPhone display at under 5 inches, citing Apple's desire to continue to allow one-handed use of its handsets.