Apple's iPhone retains U.S. smartphone marketshare lead as Samsung gains ground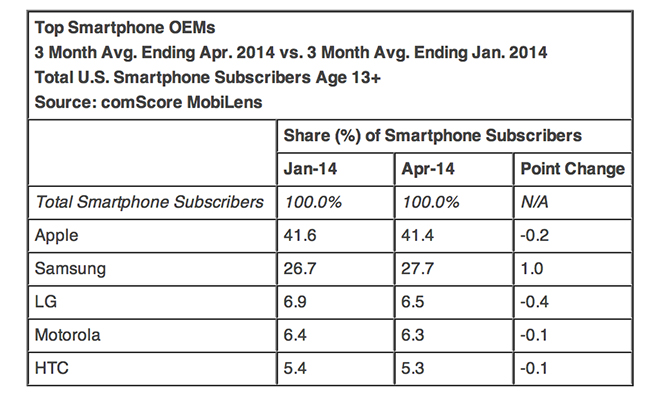 AppleInsider may earn an affiliate commission on purchases made through links on our site.
In the three months ending in April, Apple's iPhone remains the top smartphone in the U.S. with over 41 percent marketshare, but subscribership contracted slightly as rival Samsung's grew over the same period.
The latest statistics from market research firm comScore were released on Tuesday and show Apple ranked as the No. 1 smartphone manufacturer in the U.S. by subscriber marketshare during the three months ending in April.
Apple's various iPhone models raked in 41.4 percent of smartphone users, though the number was down 0.2 points from the quarter ending in January. Rival handset maker Samsung grew its share of the American market by 1 percent over the same period, ending with a 27.7 percent marketshare.
Trailing Apple and Samsung was LG with 6.5 percent of the market, Motorola with 6.3 percent and HTC with 5.3 percent. All three OEMs saw declines in user base over the three-month interval.
Google's Android operating system once again topped the list in April with 52.5 percent of the market, up 0.8 percent from the January period. Apple came in second with 41.4 percent, while Microsoft's Windows platforms came in with 3.3 percent. Blackberry and Symbian rounded out the top five with 2.5 percent and 0.2 percent of the market, respectively.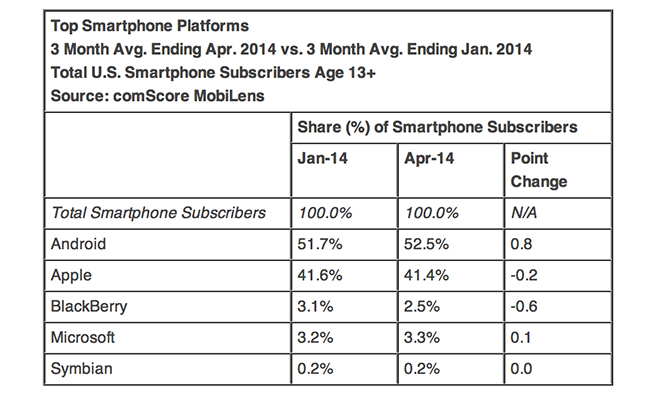 comScore found 167.9 people owned a smartphone in the U.S. over the three-month period, equating to a 69.6 percent mobile market penetration. The number is up 5 percent compared to the January quarter.