Amazon launches free 'Prime Music' streaming service for Prime members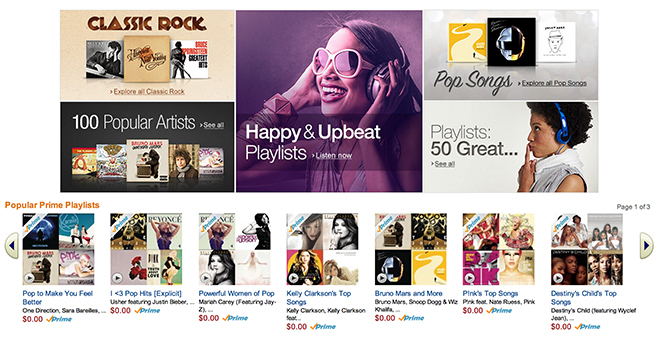 AppleInsider is supported by its audience and may earn commission as an Amazon Associate and affiliate partner on qualifying purchases. These affiliate partnerships do not influence our editorial content.
Amazon on Thursday threw its hat into the streaming music service game with Prime Music, a "free" value-added service that touts access to more than one million songs for paying Amazon Prime members.
A mix between existing free services like Pandora and for-pay options like the Apple-owned Beats Music, Amazon's solution takes a middle-of-the-road approach by focusing on ad-free playback, loosely curated playlists and manual track searching.
Playlists range from 20 to 30 songs, are curated by "Amazon's Music Experts" and come with titles like "Pop to Make You Feel Better," "Boss, Not Bossy" and "Bedford Ave. Hipster Hits." More generic collections include hits from popular bands and artists, while single tracks can be found by searching the Prime Music library.
Users can add to a Prime Music library, which is accessible on Macs and PCs via Amazon's CloudPlayer, while smartphone playback is handled by the Amazon Music app.
At the moment, it appears as though Prime Music's social element ends at playlist reviews — none were available at the time of this writing since the service just launched — though there is an option in the Web player to broadcast the currently playing song to your Facebook friends.
Finally, the trial version of Prime Music pulled in 47 songs from our personal library using AutoRip, the Amazon equivalent of iTunes Match. It is unclear how Amazon gained access to the list as the songs were purchased through iTunes in 1999 and we gave no permission for a system scan.
In any case, Prime Music's Web view and overall aesthetic is more in line with Amazon's other value added services like Prime Instant Video than a polished standalone offering. Searches are conducted through Amazon's usual search bar and available music is displayed in an identical manner to Amazon's Digital Music Store.
Amazon Prime Music is available now for Prime subscribers who pay an annual rate of over $79. The company is offering a free 30-day trial — actually a promotional Prime membership — that automatically converts into a $99 per year annual fee at the end of the period. For now, Prime Music is limited to the U.S.