Apple puts some Hachette e-books on sale as Amazon dispute drags on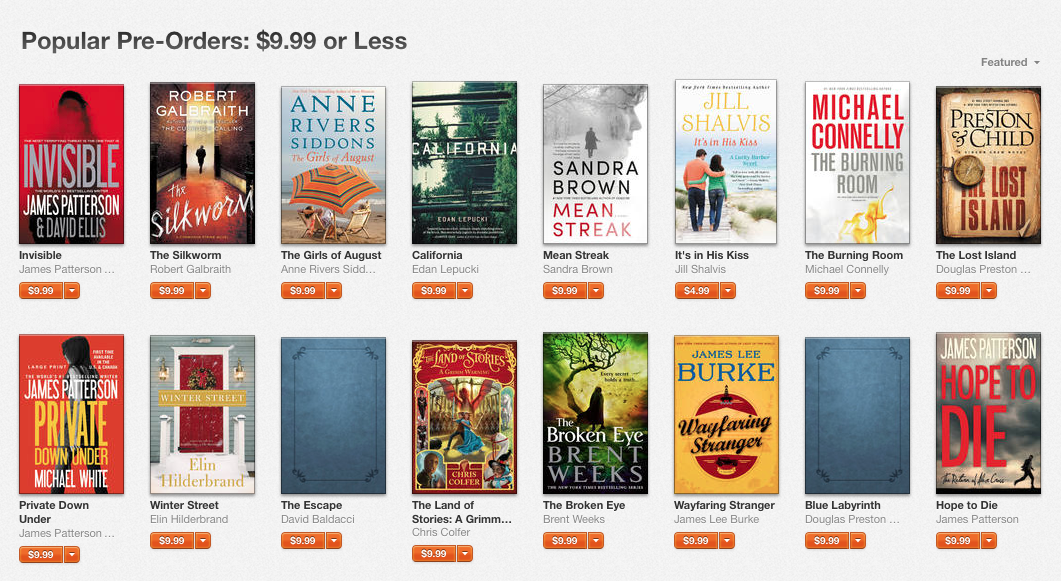 With publishing house Hachette locked in a battle with Amazon that has seen the imprint's titles pulled from Amazon's virtual shelves, Apple's iBookstore has become the next-best place for readers to shop as a number of Hachette e-books are now discounted to just $9.99.
Each of the nearly 30 titles in Apple's $9.99 pre-orders section is from Hachette, and all are currently unavailable from Amazon — though it is not known what relation Apple's move has to the Amazon tiff. The sale was first noticed by Re/code.
Included in the sale are popular upcoming titles by authors including J.K. Rowling and James Patterson, which have become pawns in a dispute over e-book pricing between one of the world's largest publishers and the world's largest seller of books. Many believe Amazon is strong-arming Hachette in hopes of securing a new, more profitable sales agreement following the Department of Justice's dismantling of the agency pricing model that allowed publishers to set e-books prices.
Amazon, for its part, insists that the stalemate is a standard part of negotiations designed to benefit consumers. "Negotiating for acceptable terms is an essential business practice that is critical to keeping service and value high for customers in the medium and long term," the company said in a statement.
Hachette is among the publishers who almost immediately settled following the DoJ's filing of a civil suit alleging antitrust violations. Apple eventually lost that case, though the company is in the midst of an appeal and recently settled a parallel damages-seeking suit brought by a number of state attorneys general.