Latest Apple TV beta software includes iCloud Family Sharing, brings shared content into the living room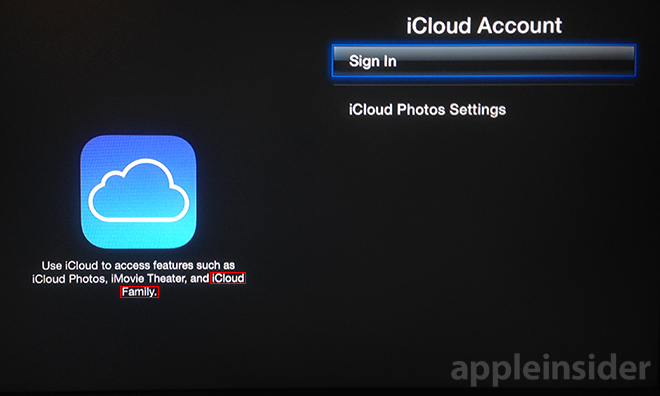 Alongside the introduction of Apple's second iOS 8 beta release on Tuesday, the company issued the first beta version of its upcoming Apple TV Software update, which activates the new iCloud-based Family Sharing function set to debut as part this fall.
Introduced at WWDC as a tentpole feature for iOS 8, Family Sharing allows up to six family members to access each other's purchased content from any registered device running iOS 8 or OS X 10.10 Yosemite.
With native support on Apple TV, this means video, music and more can be viewed on a large television screen without connecting to the streaming box via AirPlay.
With its latest Apple TV Software beta — at least this initial version — Apple is limiting support to third-generation Apple TVs, suggesting owners of older models like the second-generation variant may be left out when the update sees public release. Some speculate Apple has been forced to leave out legacy models as software advancements has advanced past the capabilities of older components like the A4 SoC.
According to the release notes, there are a few issues with the first Apple TV Software beta including intermittent stuttering (dropped frames) or complete playback stoppage. In some cases, Apple TV may crash and return to the main menu after purchasing a music video.
Along with Family Sharing, Apple also tweaked the main menu's iconography to "flatter" graphics akin to those seen in iOS and the upcoming Yosemite.