Video shows alleged 5.5-inch 'iPhone 6' mockup is taller than Samsung's Galaxy Note 3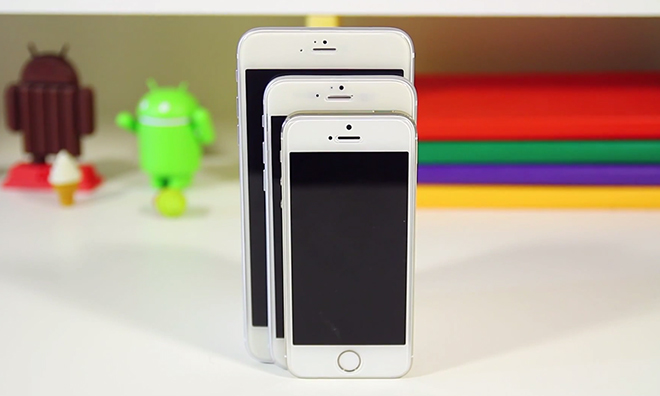 A video posted to YouTube on Tuesday pits widely circulated 4.7- and 5.5-inch "iPhone 6" dummy models against the iPhone 5s and other popular handsets, showing Apple may be headed deep into phablet territory as the larger version is noticeably taller than even Samsung's Galaxy Note 3.
As seen in the screenshot above, taken from TechSmartt's comparison video, both purported iPhone 6 mockups are noticeable larger than Apple's current-generation smartphone. The largest dummy unit, however, utterly eclipses the 5s and even overshadows the Note 3 and LG's G3, both of which are considered to be large devices.
While comparing both dummy units against existing hardware, the video keeps returning to the sheer size of the 5.5-inch iPhone mockup, saying at one point that the unit is likely too large for most people to comfortably use with one hand. Without a stylus like the Galaxy Note series, users could need two hands for text input and UI navigation.
For reference, the Note 3 is 151.2 mm tall, 79.2 mm wide and 8.3 mm thick (5.95 x 3.12 x 0.33 inches) and features a 5.7-inch display. The added height on the alleged iPhone 6 is thanks to a carryover in design from previous iPhone models. The extended bezel area to the top and bottom of the display — carrying the ear speaker, proximity sensor and front facing camera, as well as Apple's Touch ID Home button — have not been slimmed down on these dummy models.
The mockups on display are identical to those that have popped up in reports as recently as today and supposedly originate from case manufacturers using the models as reference designs.
This is not to say the dummies floating around over the past few weeks are legitimate examples of Apple's next-gen handset design, however. Third-party accessory makers are known to take risks on "leaked" devices in manufacturing products before official specifications are released. This is especially true for case makers competing in a crowded, yet lucrative, aftermarket industry.