Apple invents iPhone camera lens actuator made of artificial muscle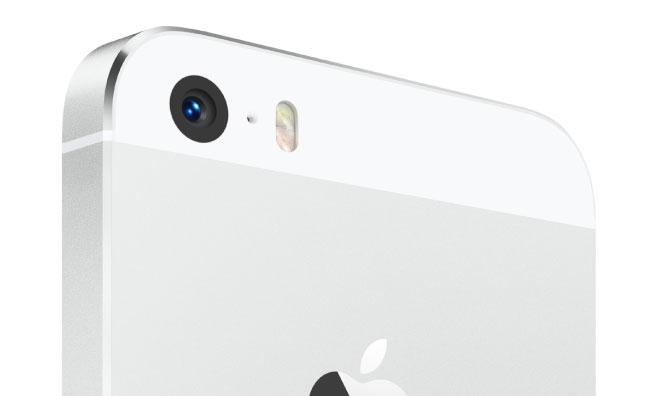 AppleInsider may earn an affiliate commission on purchases made through links on our site.
The U.S. Patent and Trademark Office on Thursday published an Apple patent application for a method of constructing a camera lens actuator that uses a single artificial muscle structure rather than traditional motors to control focus and aperture size.
According to Apple's aptly named "Artificial muscle camera lens actuator" filing, suggestions to apply artificial muscle technology to camera autofocus actuators have been floating around for some time, but the electro-active polymer (EAP) materials on which the tech is based were not suitable for mass manufacture until recently.
With the proliferation of haptic feedback features in devices like remotes for video game consoles, the appropriate engineering cogs are in place to mass produce the materials, though an exact production design tailored for camera autofocus actuators has yet to be vetted.
To that end, Apple proposes a micro electromechanical system (MEMS) design using an EAP layer having a frusto-conical shape as seen in the illustration below. Situated at the tip of the artificial muscle structure is an opening to be used as the camera's aperture, which can be variably displaced via complementary electrodes attached or screen printed onto the front and back of the layer.
The EAP layer itself can include one or more layers of polymer material sandwiched together between the two flexible electrodes. When voltage is applied, the potential differential generates an electrical field that subsequently activates conductive particles in the polymer layers to create a substantial force that results in elongation of the structure.
The example above shows the force exerting itself in a rearward direction with potential difference on opposing surfaces depicted by "e+" on the positive electrode and "e-" on the negative electrode. A spring attached to the lens barrel or lens holder creates a loaded opposing force that can overcome the first force, thereby facilitating forward and backward movement along the imaging axis.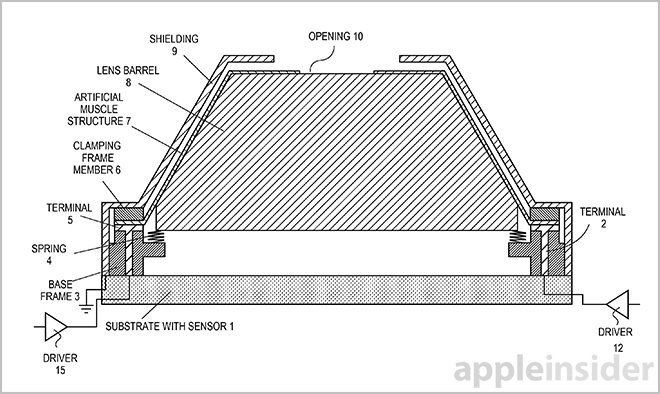 Taking a closer look at the artificial muscle structure, the image below illustrates how both displacement and variable aperture control can be achieved in a single mechanism. The formation places a positive electrode on the inside of the EAP layer with a gap running from its base to the tip, splitting it into two separate actuation segments that control lens barrel movement.
A third electrode is placed within the created gap so that an aperture created in the EAP material can be variably controlled by changing the electrode's potential independently of the two actuation segments. Alternatively, aperture size may be controlled by changing the potentials on the two actuation segments relative to the third electrode.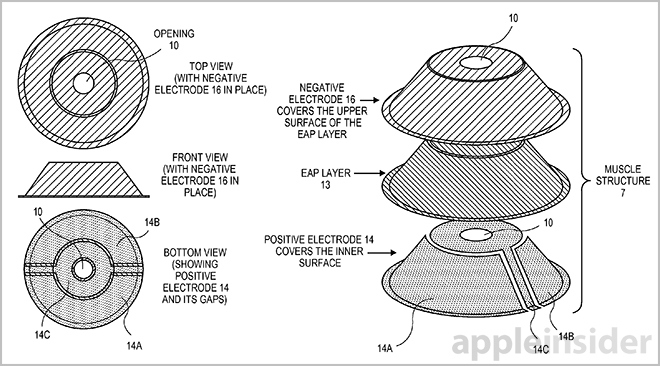 Apple notes an artificial muscle structure is advantageous because it can carry relatively large optics and consumes extremely low levels of power.
Whether Apple will apply the technology to a future iOS device remains unclear. As portables like the iPhone become increasingly thin with each successive generation, however, the company may soon find a need to look in the direction of alternative solutions to the rather bulky voice coil motor used in current models.
Apple's artificial muscle camera lens actuator patent application was first filed for in August of 2013 and credits Aurelien R. Hubert, Douglas S. Brodie, Iain A. McAllister and Jeffrey N. Gleason as its inventors.