Apple continues to improve App Store discoverability with 'Best New Updates' section for games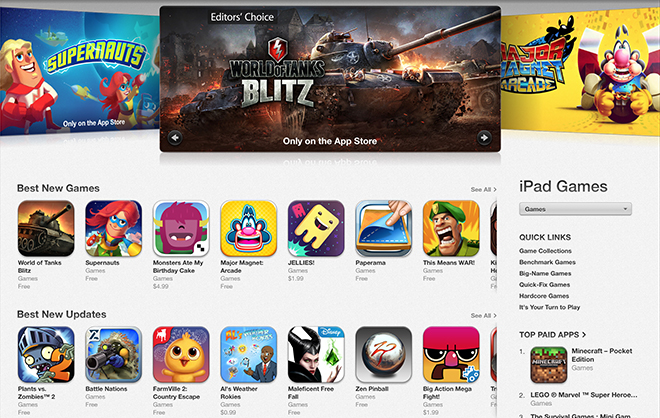 Apple on Thursday unveiled a slight tweak to its iOS App Store by breaking out notable game updates into a new "Best New Updates" section, exposing users to recent refreshes of top-selling titles.
Prior to the creation of Best New Updates, Apple lumped game updates into the curated "Best New Games" section, making for a long list of titles to scroll through. Now, with the updates separated from legitimately new games, users can more easily browse top games and discover past apps they might have missed.
Currently, the Best New Updates section includes 19 game titles ranging from big-name hits like Plants vs. Zombies 2 (updated Jun. 24) to the less well-known Red Herring (updated Jun. 25). A majority of games have received updates within the past few days, while the oldest update — Al's Weather Rokies — is an outlier and was last updated on Jun. 7.
The latest App Store change follows May's addition of a curated "best of" section highlighting the best apps and games that came out the month prior.
With its ongoing App Store tweaks, Apple is looking to enhance app discoverability as the number of listed titles grows exponentially. Last October, CEO Tim Cook announced that the iOS App Store passed a landmark one million available apps, many of which are games.
In introducing the Best of Updates section, and placing it prominently just below Best New Games, Apple may incentivizing developers to push out frequent updates that bring added content for enhanced replayability.
The new additions may also be the result of a reported behind-the-scenes battle between Apple and Google over first rights to blockbuster games. Both companies supposedly offer big-name developers special consideration, like premium store placement, in exchange for temporary platform exclusivity.