Purported 'iPhone 6' sapphire display undergoes extreme torture test in video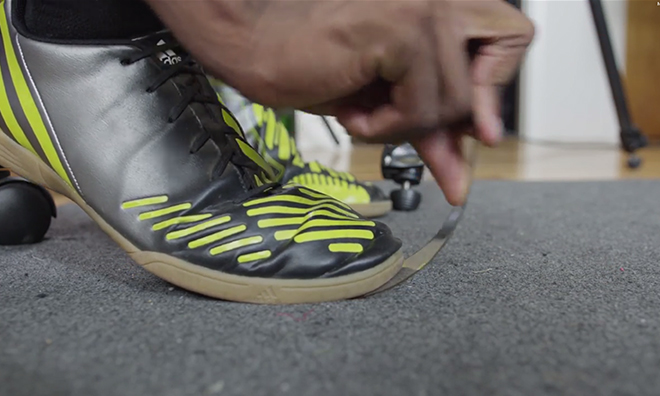 Hours after a video purportedly revealed Apple's rumored sapphire crystal "iPhone 6" display on Monday, another short film hit the Web, this time putting the supposed part through a battery of torture tests that included knives, keys and extreme bending.
Uploaded to YouTube by tech vlogger Marques Brownlee, the video mirrors today's earlier post by taking a close-up look at the purported iPhone 6 display, but goes further by attempting to scratch, bend and break the part. The display performed surprisingly well and came out of testing unscathed.
Brownlee said the component is made of sapphire crystal and came straight off Apple's assembly line in Asia, but provided little evidence to support his claims. A number of manufactured materials offer similar properties to those shown off in the video, including Corning's Gorilla Glass which Apple currently uses in its portable products. The glass maker said its next-generation Gorilla Glass 3 is more resistant to scratches, flexing and shattering than certain sapphire formulas.
Whatever it is made of, the rumored iPhone 6 component looks to be both extremely hard and adequately pliable, possibly to the point of negating the need for a screen protector.
Apple first used sapphire as a rear camera lens cover in the iPhone 5, then expanded deployment to the Touch ID fingerprint reader found in the iPhone 5s. With its superior scratch protection and clarity, sapphire is a preferred, yet more expensive, alternative to aluminosilicate glass.
After inking a $578 million deal with sapphire manufacturer GT Advanced Technologies in November, Apple has been widely rumored to be preparing larger installations — like front panels — in future iOS devices, starting with the next iPhone.
AppleInsider was first to report on Apple's sapphire-related patents, many of which suggest the company has been investigating sapphire covered displays for years. In regard to today's video, a particular property involving laminate construction comes to mind. The IP describes a method of laying up sapphire sheets with varying physical properties to increase surface hardness, while at the same time enhancing flexibility.