Mobile shopping to reach near $50B in 2014 as Apple, Inc. iPad retains 80 percent share of online orders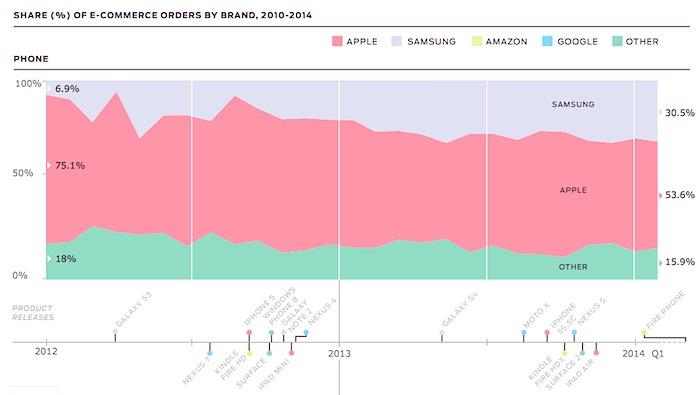 Apple continues to dominate as the platform of choice among mobile buyers, with iOS representing 54 percent of all phone orders and 80 percent of tablet transactions as the market approaches $50 billion this year.
Mobile now accounts for over one third of online shopping
Data compiled by the Custora E-Commerce Pulse covering 70 million consumers and $10 billion in transaction revenue at 100 retailers shows that mobile devices are increasingly displacing the online shopping that was virtually all (97 percent) performed using desktop PCs just four years ago (below).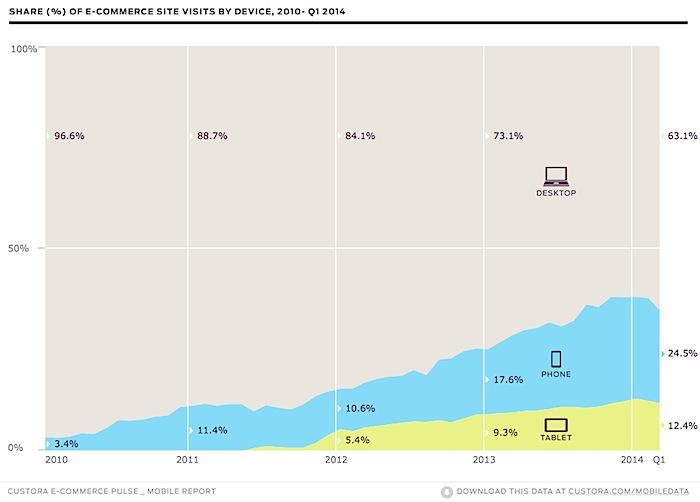 Since then, e-commerce visits by phone have jumped from less than 4 percent to almost 25 percent, while tablets now account for just over 12 percent of site visits, leaving conventional PCs with 63 percent share.
The market is also growing dramatically, with Custora outlining an 111 percent 4 year Compound Annual Growth Rate, ramping from $2.2 billion in 2010 to $7.9B in 2011, $21.2B in 2012 and $42.8B in 2013.
This year, "it's likely that mobile e-commerce will hit $50 billion in sales," the firm stated, given first quarter revenues of $12.2 billion.
Mobile conversion rates still trail PCs, indicating that users frequently shop from their phone, but often place their orders later using PCs. While mobile devices made up almost 37 percent of site visits, they accounted for only 23 percent of online orders and just over 18 percent of revenue.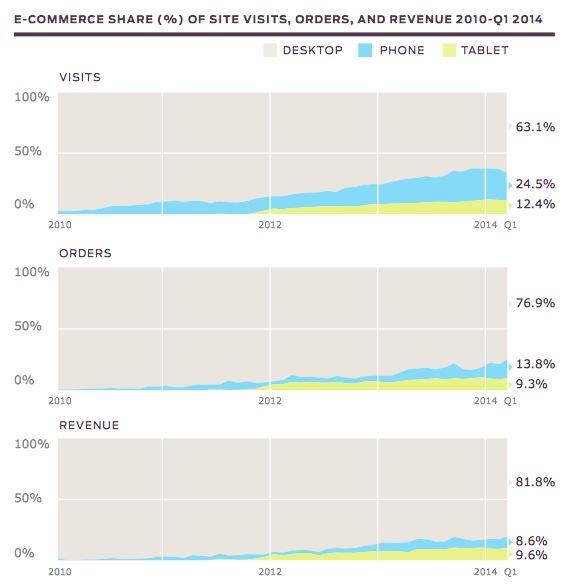 The firm's data also indicates that smartphones and tablets are also being used differently: while two thirds of mobile visits come from phones, the orders originating on both are closer to being tied, while tablets actually outpaced phones in the amount of revenue they drive.
The average number of minutes tablet users spent shopping at a site (3:16) were also closer to PC visits (3:39), compared to the shorter average visits by phone users (2:13).
Apple's iPhone and iPad are dominating e-commerce
"Apple's mobile supremacy remains," Custora stated, while noting that it "continues to be challenged, most notably by Samsung and more recently, Amazon."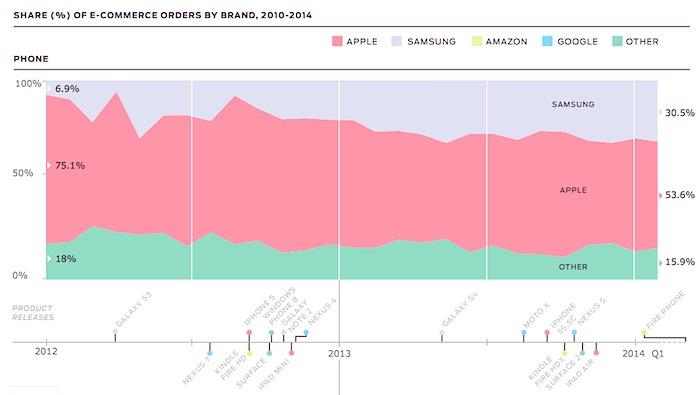 The firm depiction of Apple's share among phones (above) suggests that iPhones are losing ground, with the company stating that iOS "orders went down from 75.1% in January 2012 to 53.6% as of March 2014."
However, the firm's numbers also show that Apple's current share among phones is greater than its lowest point in 2012, recorded after the launch of Samsung's Galaxy S3. Conversely, Samsung hasn't significantly improved its share since then, even as Amazon, Google, Microsoft's Windows Phone and everyone else have seen their collective share of orders amongst phones fall to below 16 percent.

In tablets, Apple's iPad maintains an even larger lead (above). Samsung tablets now represent just 12 percent of orders, while Amazon Kindle Fire tablets represented just over 4 percent, a notable figure given that company's strategic focus that almost exclusively targets online sales.
Google's tablets get a lot of media attention, but their users only placed just over 1 percent of online orders, while tablets from everyone else (including Microsoft's Surface) amounted to less than 3 percent.
Overall, throughout May 2014 Custora reported that Apple's iOS represented 78 percent of all mobile e-commerce orders, while all devices incorporating some form of Android software represented 22 percent. Other mobile platforms recorded less than 1 percent of order activity.