Morgan Stanley ups Apple price target to $110, sees sales of up to 60M 'iWatch' units in first year

AppleInsider may earn an affiliate commission on purchases made through links on our site.
Strong customer loyalty for Apple's iPhone is predicted by Morgan Stanley to drive a so-called "halo effect" for sales of the company's rumored "iWatch," prompting the investment firm on Monday to increase its price target for AAPL stock to $110.
The new price target from Morgan Stanley, which would represent an all-time high for shares of AAPL if the prediction were to come true, was revealed in a research note to investors, a copy of which was provided to AppleInsider. In the short term, analyst Katy Huberty expects Apple will report results at the high end of Wall Street expectations when it reveals the results of its just-concluded June quarter next Tuesday.
But looking ahead to the fall and beyond, Huberty has particularly high hopes for the anticipated debut of a wrist-worn "iWatch" from Apple. She said current smart watch sales should not be used as a predictor for how a product from Apple might fare, and instead investors should look to how the company has successfully managed to sell new product categories to existing customers.
The so-called "halo effect" was first used to describe how iPod owners were switching from Windows PCs to Apple's Mac platform. But going forward, Huberty believes that the same effect may help drive strong initial sales of the "iWatch."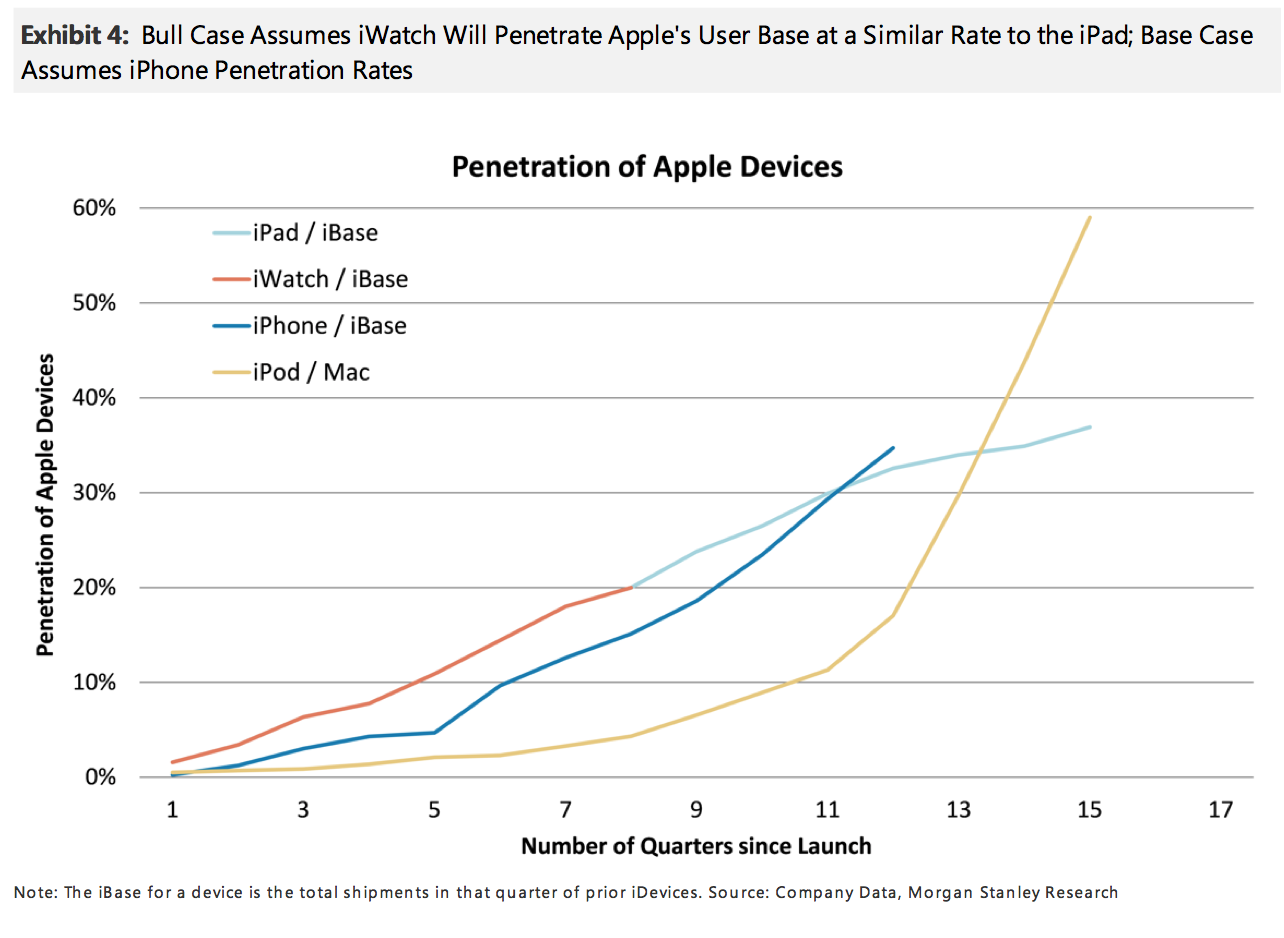 She sees a range of 30 million to 60 million "iWatch" units being sold in the first 12 months of availability. Her models assume an average selling price of $300 and gross margins between 40 percent and 50 percent.
She noted that historically, investors have underestimated sales of new Apple product categories based on the limited success of established products. For example, investors originally compared the iPod to the Sony Walkman, the iPhone to BlackBerry, and the iPad to netbooks, she said.
She also noted that loyalty to the iPhone brand has been increasing over time, growing from 73 percent in December of 2011 to 90 percent in March of 2014. She believes that kind of loyalty will bring new users to the "iWatch" in the first year.
Morgan Stanley's new price target is up from its previous prediction of $99. The firm also provides investors with a valuation range, which currently ranges from a bull-case high end of $132 per share, to a bear case of $74.