Jawbone UP and Airbnb iOS apps get all new features, revamped designs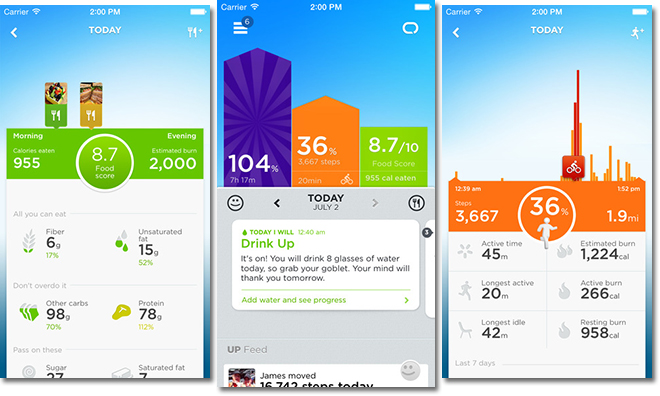 A pair of app updates on Wednesday brought new wellness tracking tools and a refreshed look to Jawbone's UP fitness system, while community-rooted travel marketplace Airbnb received a more comprehensive makeover complete with rebranding.
Jawbone UP
With its UP and UP24 wrist-worn wearables, Jawbone is a major player in the trend toward harvesting and processing so-called "quantified self" data. A new update to the UP by Jawbone app features a tweaked user interface to support new data tools for weight management and food intake.
With the new software, users now have the ability to set goals for weight and calorie intake. The revamped UI allows quick logging of logging of food, entire meals and a breakout category for water consumption. Data is laid out in a graphical chart format
Jawbone has also built out its database of restaurant menus and common food pairings, to which users can add customized frequent meals. In addition, a new "Food Score" feature assigns a single number to a dish based on its healthiness.
Combined with the UP or UP24 wristband, both of which track activity throughout the day, Jawbone's app is able to keep tabs on a user's health metrics with minimal interaction.
UP by Jawbone is a free 72.3MB app that requires either the UP or UP24 wristband to access all features.
Airbnb
While much of the hype surrounding Airbnb's new rebranding effort has focused on a new abstractly sexual logo, the redesigned app and website are perhaps more worthy of attention.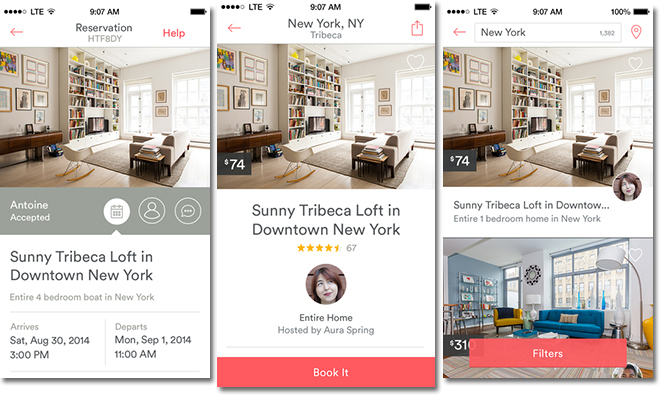 The community-based short-term accommodation marketplace refreshed its app design to include larger photos, a "flatter" user interface in line with iOS 7 and easy-to-read fonts. A new feature called "Discover" lets users filter rent-ready spaces by theme and specific locations.
Airbnb's usual tools for listing and reserving places to stay are still present in the update, as are information boxes about a location's surroundings. Renters can also access host profiles from an accommodation's main page.