Photos purport to show 'iPhone 6' Lightning port, microphone flex cable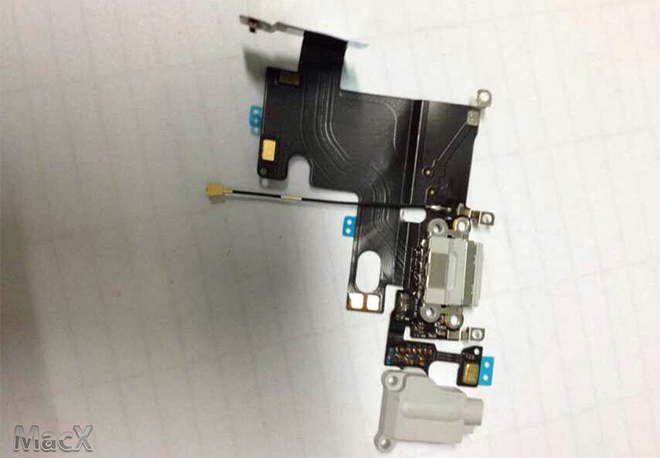 A pair of images out of Asia on Friday supposedly show a flex cable for an unannounced Apple product, containing a Lightning connector port, microphone and unusually large headphone jack.
The photos of the alleged Apple part were posted to the MacX forum by a user who claims to have acquired the cable from an old junior high school classmate now working in the manufacturing industry in Shenzhen, China. Apple partner supplier Foxconn is known to have a factory in that area, though the connection is tenuous at best.
Because AppleInsider cannot verify the authenticity of the hardware, the following is offered for purposes of discussion only.
While the overall design of the flex cable is similar to that of Apple's most recent iPhones, including the iPhone 5s, there are a few interesting differences worth pointing out.
For example, the rear side of the cable appears to have additional grounding plates, circuitry and an oval hole cut out just above the Lightning connector. Apple's next iPhone is expected to feature an ultra-slim profile, meaning the cutout could be a space saving measure meant to afford extra headroom for components.
The headphone jack is also larger than those found in current model iPhones, which feature a rectangular cuboid housing a bit larger than the barrel holding the assembly's TRRS finger contacts. While mere speculation, the part could serve a dual purpose, perhaps as a secondary loud speaker. Apple does hold patents for a 3.5mm TRRS jack that integrates a speaker module and the part in Friday's photo appears to be specially molded.
It should be noted, however, that the audio quality from such a small enclosure and port opening would compare poorly to the dedicated — and much larger — speaker enclosure used in the iPhone 5s, and Apple is unlikely to take exchange overall fidelity for stereo sound.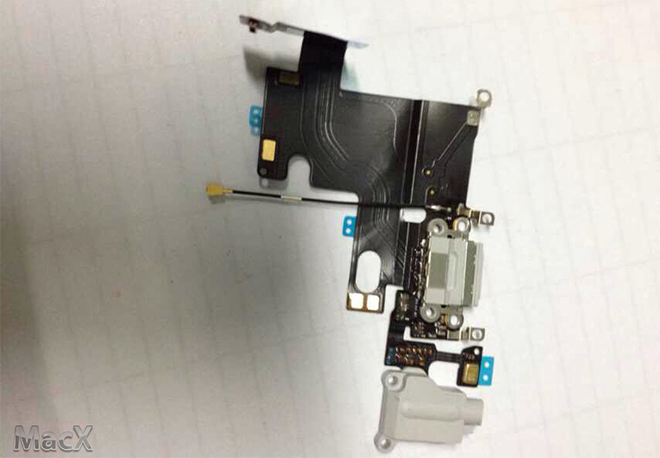 Finally, in the image above, a small Apple logo can just be made out next to the Lightning port, along with what appears to be a part number.
Apple is expected to launch two new iPhone models this fall with 4.7-inch and 5.5-inch screen sizes. A rumor on Thursday claimed the smaller version is slated to enter production next week, while assembly of the 5.5-inch "phablet" may be delayed until August.