New Apple ad shows off sticker-clad MacBook Airs, calls it 'the notebook people love'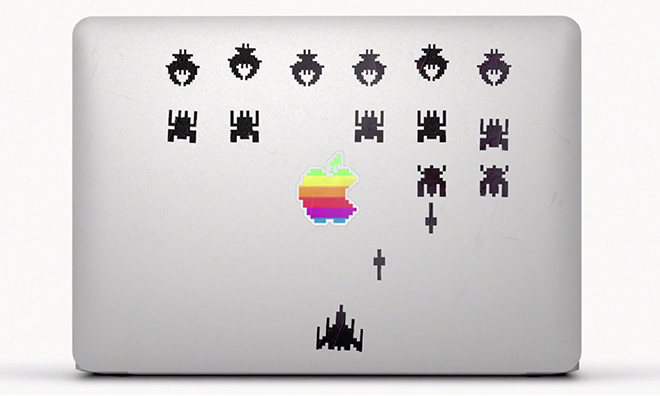 Apple on Monday published a short 30-second commercial featuring a number of MacBook Airs dressed up in stickers and decals, with each customized thin-and-light reflecting the personality of its owner.
The spot, aptly titled "Stickers," can be considered a product video as it puts the MacBook Air center stage, but it is also very "human" in that each owner is somehow present through the artwork they applied to the machines.
While Apple is usually careful to show only pristine new devices for these sterilized "all-white background" shoots, a few of the Airs in today's ad clearly show scuffs and dents, further translating that the laptops are indeed well loved. The small touch adds a much needed human element often missing from commercials touting specs, design or battery life.
As seen in the video above, a variety of art styles, pop-culture icons and designs are represented across the front covers of multiple MacBook Airs, including Homer Simpson, Walter White from Breaking Bad, Snow White, 8-bit game characters, brands and more. One Air even has a Beats logo stuck on its front.
Each laptop is framed in the exact same spot as the previous, which lends lends a stop motion feel to the short. In fact, a batch of shots near the end of the clip show an impromptu game of Space Invaders being played out in stop motion on the Air's aluminum cover.
Apple wraps the video with a few Airs sporting stickers of hands flashing the heart sign around the LED-backlit logo, ending with tagline, "The notebook people love."
A departure from the company's most recent iPhone and iPad commercials, the new MacBook Air ad is a refreshing and creative change of pace.