Apple hit with class action lawsuit over alleged labor violations, more than 20K plaintiffs involved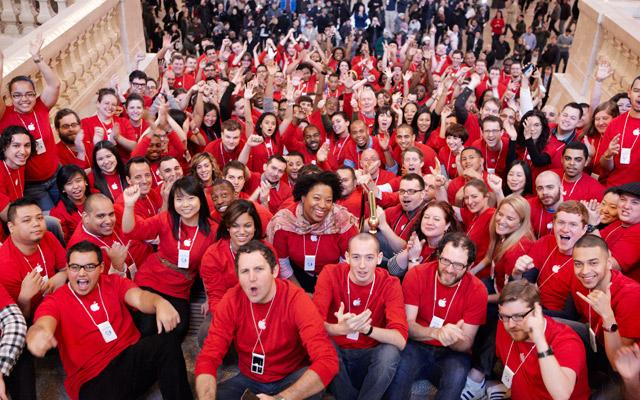 A lawsuit being leveled against Apple was granted class certification on Monday, alleging the company's treatment of Apple Store and corporate operations employees constitute multiple California Labor Code violations.
Apple was first accused of violating California's labor laws in 2011 by four employees who claim the company did not provide adequate break time, meal time and paychecks on a timely basis, reports TechCrunch.
Most recently, plaintiffs were granted class status, meaning the scope of the case widened substantially and now includes more than 20,000 current and former employees. Lawyers estimated the class to contain about 18,000 member, but attorney for the plaintiffs Tyler Belong said, "The class size continued to grow as the case continued on and time passed due to employee turn over. It is now over 20,000."
The publication obtained a statement from Belong, who summarized the case:
The lawsuit was filed by Brandon Felczer and several other retail and corporate Apple employees (the "Plaintiffs") beginning in December 2011. The Plaintiffs sought to represent themselves and all other similarly situated Apple employees in California who were not provided timely meal breaks, timely rest breaks, and timely final paychecks according to California's Labor Code and Wage Orders. Just yesterday, after years of litigation, against Apple's opposition, and after voluminous briefing and lengthy oral argument, the California Superior Court granted Plaintiffs' motion and certified the case as a class action, appointing Plaintiffs and Plaintiffs' counsel (Hogue & Belong) as the class representatives and class counsel on behalf of approximately 20,000 Apple employees. In other words, as of yesterday's ruling, Apple now faces claims of meal period, rest period and final pay violations affecting approximately 20,000 current and former Apple employees.
The class is still deciding on remedial monetary demands, though counsel is asking for damages and restitution of all monies due to plaintiffs from unlawful business practices as pursuant to ten California Labor Code sections. As usual, interest accrued and applicable attorneys' fees are also being sought. Apple has yet to make a statement on the matter.
Embedded below is a copy of the most recent amended complaint, which was filed in October of last year.